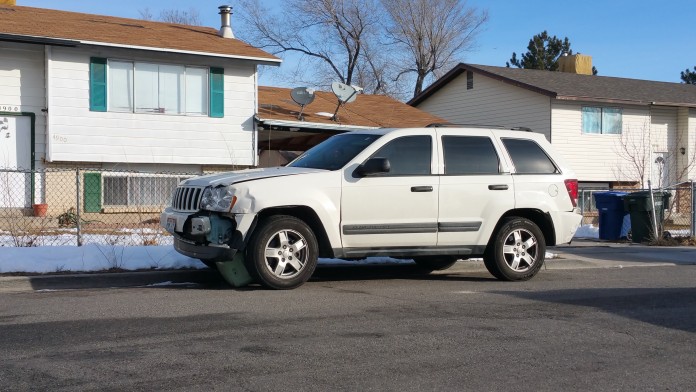 WEST VALLEY CITY, Utah, Jan. 29, 2016 (Gephardt Daily) — A suspect involved in a high-speed chase with police caused an accident involving an officer's car, then escaped arrest Friday morning.
According to West Valley City Police Sgt. Joshua Brown, the incident happened at about 8:30 a.m. when a call came into dispatchers reporting a stolen vehicle.
"The owner of the car had managed to follow it for a while but then lost sight of it," Brown said. "Officers were able to locate the car and attempted to pull over the vehicle, but once the officer got out of his vehicle, the suspect took off."
Brown said both Unified Police officers and West Valley Police officers were involved in the pursuit and one of the officers followed the vehicle as the suspect entered a dead end.
"In an attempt to leave the dead end, the suspect crashed into the officer's car," Brown said. "The officers did lose the suspect for a moment but a short while later, the vehicle was found abandoned in the street on Hellas Drive with some sort of tool box stuck underneath."
"A witness watched the suspect exit the car and run to a home. He was only able to identify the clothing the suspect had on and which home he ran to, not what the suspect actually looked like," Brown said.
"There is a storage shed where the clothing matching the description from the witness was found, but because there were multiple individuals inside the home who would not cooperate with us, we were unable to identify which individual was the suspect."
The witness, identified only by his first name B.J., said he was standing outside when a car came speeding up his street and suddenly stopped.
"He slammed on the brakes and got out and ran up to a house down the street," B.J said. "I knew something was going on so I called dispatch."
According to Brown, they will now used the evidence found and will checked for DNA to help identify the suspect.
No one was injured in the incident.