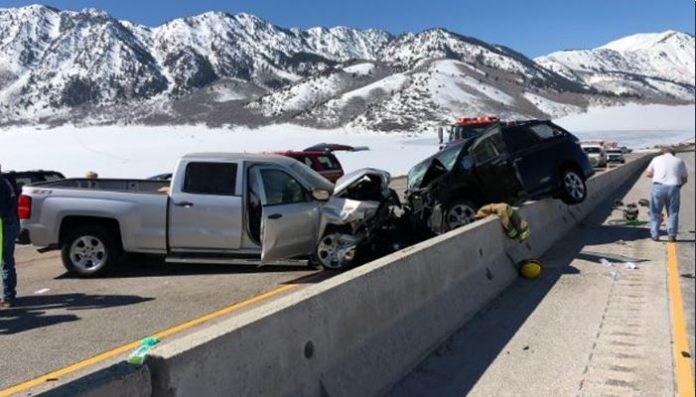 CACHE COUNTY, Utah, March 19, 2019 (Gephardt Daily) — An 87-year-old woman who was severely injured in a head-on crash Tuesday afternoon in Sardine Canyon was airlifted to Ogden Regional Hospital, where she was later pronounced deceased.
The woman, who was a passenger in a Chevy pickup truck involved in the crash, was initially thought to have died at the scene, however, when CPR was administered, she regained a pulse and was immediately transported to the hospital. Officials sent out a "correction," indicating that the woman had survived the crash.
The Department of Public Safety issued a news release later Tuesday confirming the death.
The crash occurred at approximately 3 p.m. at mile marker 11 near Dry Lake in Sardine Canyon.
The news release states that the initial call was of a head-on collision on State Route 91. Utah Highway Patrol and Cache County Sheriff's Office deputies responded.
The southbound lanes of SR-91 were shut down at mile marker 17 at the State Route 23 junction, while troopers blocked the No. 1 lane northbound, because one of the vehicles had landed on the concrete barrier dividing the road.
The road has since been reopened.
According to the DPS news release, witnesses reported that a 2014 silver Chevy Silverado had crossed the median at the summit and was heading north in the southbound lane.
One of the witnesses told authorities he swerved to the right and "narrowly avoided the collision, but as he looked in his mirror he witnessed the pickup truck strike a black 2014 Toyota Sienna SUV."
The driver of the Toyota, a 32-year-old man, had to be extricated from the vehicle. He was transported to Logan Regional Hospital in good condition, the release states.
The 88-year-old man who was driving the Chevy pickup truck was taken to Logan Regional Hospital in good condition. His female passenger's heart had stopped, but when she regained a pulse, she was flown to the hospital and was later pronounced dead.
Investigators are looking at fatigue or a medical condition as the cause of this crash.