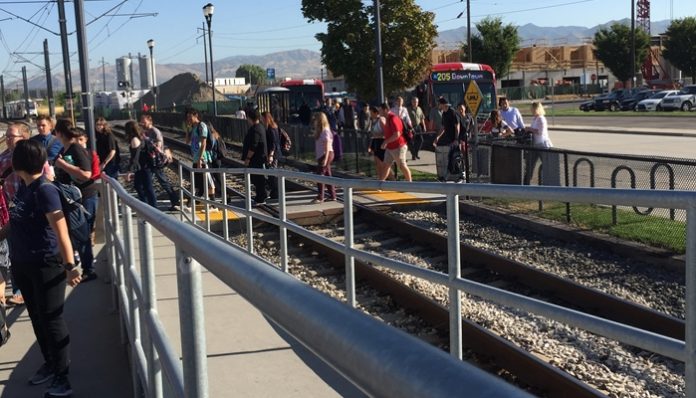 MURRAY, Utah, Aug. 26, 2019 (Gephardt Daily) — A 33-year-old woman is in critical condition after a crash involving a Utah Transit Authority TRAX train and a car in Murray Monday morning.
UTA spokesman Carl Arky told Gephardt Daily the crash occurred at approximately 8:15 a.m. when a southbound train was decelerating to pull into Murray Central Station in the area of 100 W Vine St.
"The vehicle was westbound on Vine Street in the number two lane," said a news release from UTA. "As the car approached the crossing the signal activated and the vehicle stopped several feet past the stop line. The gate arm came down and rested on the rear of the vehicle. The approaching train was on the west rails heading south. When the operator saw where the car had stopped he activated his horn."
Just as the train was nearing the intersection the car accelerated and was struck broadside by the train. The vehicle was pushed approximately 60 feet down the rails until the train stopped.
The driver of the car, the 33-year-old woman, was transported to Intermountain Medical Center in Murray in critical condition. Her 8-year-old daughter was in the rear seat directly behind her. The daughter was wearing a seat belt. She received minor injuries and was cleared by the Murray paramedics.
Murray police located her father and transported her to his home where they released her to him.
Gephardt Daily will have more on this developing story as information is made available.