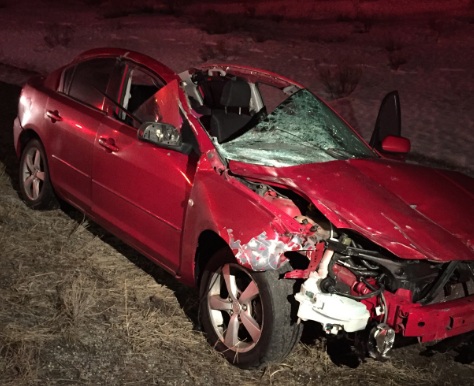 PARLEY'S CANYON, Utah, Feb. 17, 2016 (Gephardt Daily) — A woman was taken to the hospital after hitting a moose in Parley's Canyon Tuesday night.
According to Utah Highway Patrol Sgt. Mary Kaye Lucas, a 23-year-old woman was traveling west in the left lane of I-80 just before midnight when she struck a moose that was standing in her lane of travel.
"She struck the moose directly, it then traveled over her hood into the windshield and over the top of the roof, taking the roof right along with it," Lucas said.
"She sustained some lacerations, and her airbags were deployed. She was taken to University Hospital with injuries that were not life threatening."
Lucas said the problem lies in the fact there is no extra light, no moon out and no artificial light in this area.
"When moose are standing in the road they blend right in with the environment and you don't see them until its too late," Lucas said. "This was a very large moose, and she had a very small passenger car, so even though there was substantial damage to her vehicle she was very lucky and will recover.
"As we go into spring you are going to see wild animals coming down looking for food," Lucas said. "Just remember to be vigilant and use caution. Especially in areas that are poorly lighted, make sure you are always driving at a speed that you can stop if you needed to."
Lucas said there is no wildlife fencing in that area because high traffic makes it unattractive to animals.
The moose did not survive his injuries.