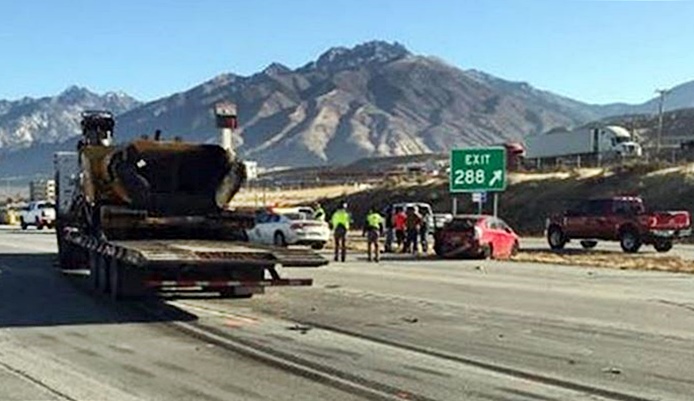 For an updated story, click here.
BLUFFDALE, Utah, Nov. 9, 2019 (Gephardt Daily) — A woman was killed and her boyfriend seriously injured after an accident Saturday morning on northbound Interstate 15 at 14600 South.
According to a report from the Utah Department of Public Safety, "A passenger vehicle traveling north on I-15 near the Bluffdale exit 288 pulled over because his girlfriend passenger was attempting to jump out," the DPS statement says.
"The female ran into traffic and in attempt to block traffic, the boyfriend pulled the passenger car back into the lanes of travel.
"The vehicle was struck by a dump truck pulling a paver. The passenger car was pushed into the female causing fatal injuries. The male passenger was transported to the hospital with serious but non-life threatening injuries."
I-15 northbound traffic was diverted to the Bluffdale exit during the Major Crash Investigation Team's investigation, the DPS statement says.
The accident and investigation have blocked northbound traffic for multiple hours.