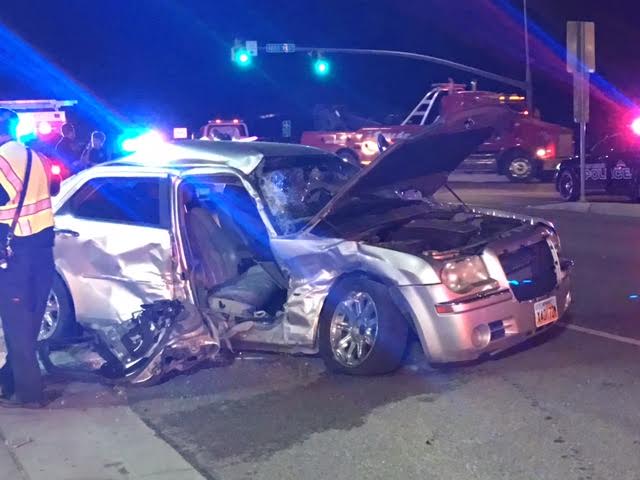 WEST JORDAN, Utah, June 27, 2016 (Gephardt Daily) — A woman was pinned inside a vehicle and had to be extricated after a 'violent' collision in West Jordan Monday night.
West Jordan Police Lt. Richard Bell said the accident happened at approximately 10:15 p.m. at the intersection of 7800 South and 4000 West.
"We had a Ford F-150 pickup truck traveling eastbound on 7800 South and a westbound Chrysler 300 traveling on 7800 South who was trying to make a southbound turn onto 4000 West," Bell said.
"He turned left in front of the pickup truck, causing a fairly violent collision."
Bell said although officers hadn't measured skid marks at the time, the speed limit is 40 mph along the road, and with the amount of damage and how far the vehicles moved, the truck would have been traveling at about that speed at the time of impact.
"I am not sure if there were passengers in the pickup, but I do know the Chrysler had two occupants, a driver and a passenger," Bell said.
"The female passenger in the Chrysler was pinned inside the vehicle and needed to be extricated."
The woman, whose age is unknown, was transported to the hospital in serious but stable condition.
The driver of the Chrysler and the driver of the pickup were both men, their ages were not made available. Bell said it does appear all involved were wearing seat belts.
Bell said the accident is still under investigation. His department will pull video surveillance from the Target Store that is on the corner, which usually shows this particular intersection.
There were several witnesses and a lot of onlookers, Bell said, because the collision happened on a busy street and a Maverik convenience store on the corner.