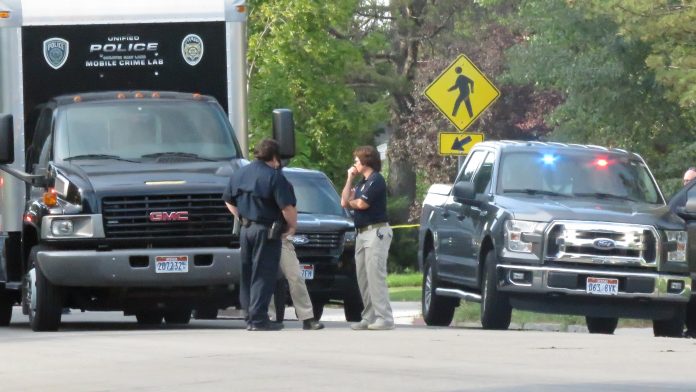 TAYLORSVILLE, Utah, July 10, 2018 (Gephardt Daily) — Police are investigating a drive-by shooting that sent a woman to the hospital in "very, very critical" condition late Tuesday afternoon.
Salt Lake County Sheriff Rosie Rivera said Unified Police Department received a call of shots fired at about 5:30 p.m.
When officers arrived at the scene, near 4900 South and 1950 West, they located a severely wounded 48-year-old woman inside the home. She had been hit by shots fired into the residence from a passing vehicle.
Rivera told reporters, "The female had been shot and was transported in very, very critical condition to IMC."
It wasn't immediately known whether the victim lives at the address, but she is related to others who also were in the home. Those family members had either gone to Intermountain Medical Center to be with the victim, or they were still being interviewed by police.
"We called out our detective unit, and our investigators are looking at why this occurred, who was involved…At this point, it's all under investigation," Rivera said, adding that it isn't known if the victim will survive.
Rivera said detectives are interviewing everyone who could be a witness to the crime, and it's possible that the shots were fired from a black vehicle, although officials are still gathering details.
The number of shooters isn't yet known, but Rivera said many shots were fired, as evidenced by multiple bullet holes that pierced the front window and struck the front of the home.
"We don't know if this was a targeted or random shooting," Rivera said. "Usually drive-bys aren't random.
"We want people to be aware, and if they saw anything suspicious, we want them to call Unified Police."
The number for UPD is 801-743-7000.
Rivera said it isn't known if this incident is gang-related; however, police have been called to the home previously.
In a major event such as this shooting, the sheriff oversees UPD and speaks for the department, Rivera said. She made it clear, though, "this is a UPD investigation."
Gephardt Daily will update this developing story as more information is made available.
Taylorsville drive-by shooting