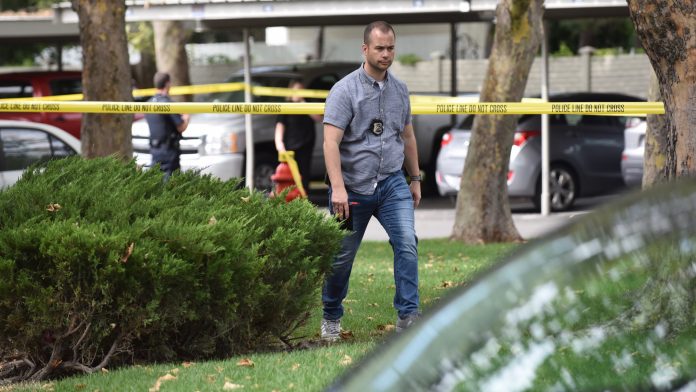 SALT LAKE CITY, Utah, July 27, 2019 (Gephardt Daily) — Police in Salt Lake City are investigating the death of a woman who was shot and killed Saturday morning in what was first reported to police as a "burglary in progress."
SLCPD public information officer Sgt. Brandon Shearer said officers were responding to the burglary call at the Apartments on the Green at 1211 N. Redwood Road about 7:40 a.m. when the call was changed to a "shots fired" call.
When police arrived, minutes later, they found a mortally wounded woman in a ground floor apartment on the northwest side of the complex.
The victim, whose identity has not been disclosed, was taken by ground ambulance to a nearby hospital where she was pronounced dead.
Investigators fanned out across the multi-unit complex in a search for clues. One exasperated tenant could be heard telling officers she couldn't believe someone had been killed in the apartment below her.
Police are asking anyone with information in the case to call SLCPD at 801-799-3000.