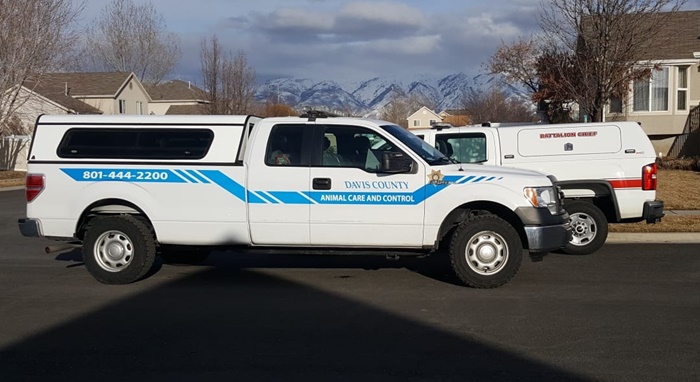 LAYTON, Utah, March 6, 2019 (Gephardt Daily) — The mother of the 4-year-old Layton boy attacked by one of a neighbor's Huskies on Sunday, losing his hand and lower arm, is thanking people for their support and donations for her son.
"On Sunday, our son was involved in a brutal attack where a husky went under our fence and bit Austin's hand and then attempted to pull him back under the fence," the woman wrote in a social media post.
A note elsewhere in the post asks for privacy and anonymity, so we are leaving the woman's name out. Several who commented on the post confirmed they are neighbors and close friends of the family whose son suffered the attack.
"Our baby lost his arm from the elbow down because it was ingested by the dog," the post says. "He has multiple other bites up as well as severe bruising on his face and jaw and a black eye.
"We won't get into all the details of his attack but to say that we are all struggling is an understatement. He had emergency surgery Sunday, another surgery this morning, and will have another Thursday for now. We can use all the prayers, support, and help we can get.
"We're asking for donations to help during Austin's hospital stay so we can be with our baby. He's going to be here a little while longer. Any other donations will go towards helping Austin and our family during this time and hopefully getting a prosthetic in the future. He will need one from the elbow down."
The public post says those who are willing can donate through a charitable account called "Superman's Army," set up by the family's neighbors. Those who wish to donate can do so at Golden West Credit Union, tagging account No. 3660062.
"You can donate through PayPal which is also linked to an account at Golden West for Austin," the post says. "We've already had an amazing outpour of support from our neighborhood and community. We are just overwhelmed with the of love and support shown to us in this horrific time. Thank you."
The statement, posted at about 9 p.m. Tuesday, had generated nearly 2,000 comments and 495 shares in its first 23 hours.
Commenters offered heartfelt sympathy or assigned parental blame, and many argued that the dogs lives should be spared, a decision that has not yet been made by Davis County authorities who are holding the dogs on a rabies quarantine.
Jessica Nusz, who says her friend owns the Huskies, Polar and Bear, has started an online petition to save the dogs. Bear is at the most risk, having been identified as the biter. The petition had draw 137,189 signatures as of Wednesday evening.
"My best friend's dog was involved in an unfortunate accident yesterday where a little boy stuck his arm through a fence and he had a sock on his arm," Nusz wrote on the petition site.
"Bear, who was playing with what he thought was a toy, he bit down too hard and didn't see that there was a child on the other side of the fence. With him being a dog, he thought it was a game of tug of war and he bit down too hard and took a lower portion of his arm. This situation is unfortunate on both sides.
"And now both dogs are in quarantine at Davis county animal control. There are fears that Bear might be put down and he doesn't deserve to be put down for this freak accident."