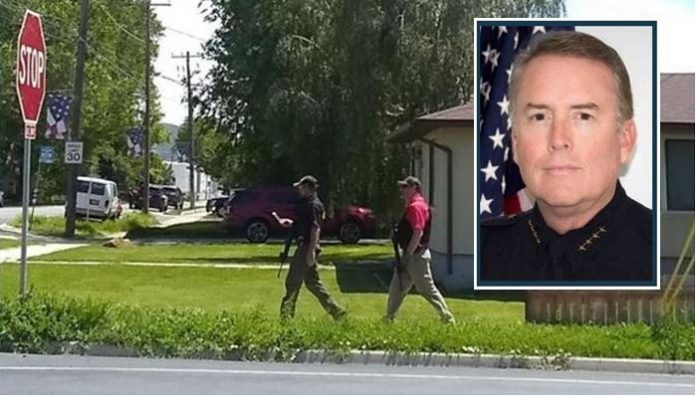 SALT LAKE CITY, Utah, June 10, 2019 (Gephardt Daily) — Woods Cross police offered an apology Monday after the mother of a 10-year-old boy said her son was held at gunpoint by a police officer Thursday.
Jerri Hrubes, who is white, says her adopted son D.J., who is black, was approached that afternoon by an officer who had his pistol drawn and aimed at the boy's head.
The child, who is short for his age, is also mentally disabled and has double vision. He has had multiple surgeries for tumors behind his eyes, and had surgery last week, his mother said.
When D.J. did not respond to the officer's command immediately, the situation escalated, Hrubes said.
Chief Chad Soffe began Monday's press conference by saying: "First we'd like to sincerely apologize to D.J. and his mother, for what happened, and any other family members who may have been traumatized by this event, we are truly sorry. We were responding to a report of a violent crime and our goal is to keep this community safe. We regret the impact this had on D.J. and his family."
Soffe said the officer in question is not facing termination.
"He did not violate any procedures or policies and we are not looking at termination of this officer, who is a seasoned veteran of police work and the Woods Cross Police Department."
The officer is also not on administrative leave because no weapon was discharged.
Soffe explained that on Thursday afternoon, Centerville police officials received a report of a shooting. The suspect vehicle was chased by officers through Farmington, Centerville and it ended up in West Bountiful. Soffe read some of the police notes on the dispatch log from the incident, including the observation that a black male was driving the white vehicle, and a second observation there were two black males in the white car.
Officers also noted that "a white car is trying to hit people." At some point dispatch took a note that "teenage boys ran through the park saying someone had a gun," so Soffe said it was unclear if a teenager was the suspect.
It was then noted that the vehicle was abandoned and two suspects ran from it, through a church parking lot in West Bountiful.
"This was a multi-agency response to the report of a violent crime involving the use of a firearm," Soffe said.
He then said that near the church, officers saw a black male, later identified as D.J., running towards the street. Soffe said the officer pulled over and told the young man he wanted to talk to him.
"The young man looks at him and starts to run across the front lawn," Soffe said. The officer then drew his gun and gave commands for the young man to get on the ground, as he thought it was one of the suspects. The young man complied and the officer approached him. As he realized it was not the suspect, Soffe said the officer holstered his weapon.
"At this time the young man's mother comes out and is yelling 'That is my 10-year-old son,'" Soffe said. The officer then told the mother and the son that officials were looking for suspects and they need to go inside. He said the entire incident unfolded in less than one minute.
Soffe added that as far as he could tell, his officers acted in "accordance with protocol and to the training they have received in the past."
He said the agency is not legally required to open an investigation when an officer draws but does not discharge his firearm.
Soffe added that because his agency wants to learn from the incident, they are asking the Davis County Attorney's Office to conduct an independent review of what transpired. It was later noted in the press conference that this will be a review, not an investigation.
Soffe said his officers are not trained to point their guns at a person's head, at any time, but to bring the gun out at a "low ready" position, but because the boy was lying on the ground, "the low ready position is forward at about a 45 degree angle, and so as he went to the ground it could have been pointed at him."
The officer did not have his body cam activated, Soffe said, partly because it was a multi-agency response and the incident unfolded so rapidly.
D.J.'s mom spoke at a news conference Thursday, organized with assistance from Karra Porter, a representative from Black Lives Matter — Utah.
Hrubes began by talking about her son.
"We were just coming back from Primary Children's. D.J. has medical delays and also has sight disabilities, so it's ongoing," she said. "He had a transplant last year and he had surgery last Friday. His sight is good, but he has double vision."
Hrubes was with other family members at her mother's house, in the West Bountiful/Woods Cross area when those inside began to hear sirens, she said.
"D.J. was playing on the front yard of my mother's home, and our door was cracked open because it was hot, and the windows were open, and me and three other witnesses that are adults that were relatives were in the living room," she said.
"The first thing I heard was lots of police cars, and I just thought there must be a fire or something, because there's so many fire trucks, until I heard something in the front yard.
"And I heard and saw with my own eyes with D.J. standing in the front lawn, playing, with no toys in his hands, nothing in his hand, and an officer had a pistol pointed at his head and was telling him 'You need to put your hands up in the air.'
"And D.J.'s exact words, 'Did I do something wrong? What did I do?,' and the officer said, "Don't ask questions, put your hands up in the air and get on the ground."
Hrubes said she had always taught her children to respect and obey police officers.
"And I'm very thankful that he was smart enough to know that is what we should do with cops, is we should respond to their commands because they are there to help us. That's what he's been taught. So he immediately went from his standing position to putting his arms in the air.
"And when I saw that, I came flying out of the house, and the gun pointed to my son's head, as most mothers would do, I was very in awe. I could not believe that that was pointed at a 10-year-old child.
"I believe it's because my child is BLACK!!!!" Hrubes wrote in a now deleted post.
Hrubes believes it would be hard to mistake her child for an adult fleeing police.
"He (D.J) is very short and it's very noticeable that he is a child, and I ran out of the door and I put my hands in the air and screamed to the police officer, 'What are you doing? This is a 10-year-old child.' I received no response. I asked for his name. I asked for anything from him, and nothing was given, and he got in his car and he fled away."
Hrubes said she and others in the house were unaware that officers were looking for armed suspects who had fled a police chase.
"After the incident, when he (the officer) left, I immediately called dispatch in West Bountiful, and I went to report, and I said to dispatch and I said 'My son, my 10-year-old child was just held at gunpoint, and I'm not OK with that. I want to file a formal complaint against the police officer.'"
"And I'm not sure how long later an officer came, but it was the officer that had a pistol pointed to my son's head," she said.
Hrubes said she later learned the officer was Sgt. Mike Daugherty, Woods Cross Police Department veteran.
"And he was on the property, and he came up the front steps and he saw D.J., and he said (the) exact words to him, his exact words, he said to D.J., 'I am so sorry that I pointed my gun at you.' And D.J., the little boy that he is, gave the police officer a hug and told him, 'It's OK.'  And he hugged him."
As she recounted the incident to reporters, Hrubes became choked up, and struggled to compose herself for several seconds before she began to speak again.
"I don't think what transpired yesterday was what a typical 10 year old should or would be faced with from a police officer. And more importantly, I support all police officers. I see good in them. I support everything. But I do not support putting a child of 10 years old at gunpoint with no explanation back to me."
Hrubes said one news agency had reported that the police chief had spoken to her, but that never happened.
"To this point now, I still have not received any calls from any police officers," she said, adding "It said that the chief of police had talked to me. That has not happened."
"I want an investigation. I want a formal complaint. I don't think that was proper to do to a 10-year-old child. He had nothing in his hands. He had nothing. He was playing in the front yard."
Soffe said in the press conference Monday that officials called twice to try and speak with Hrubes and that she hung up both times.
Officials are still looking for two outstanding suspects in the case.
View Soffe's news conference below.