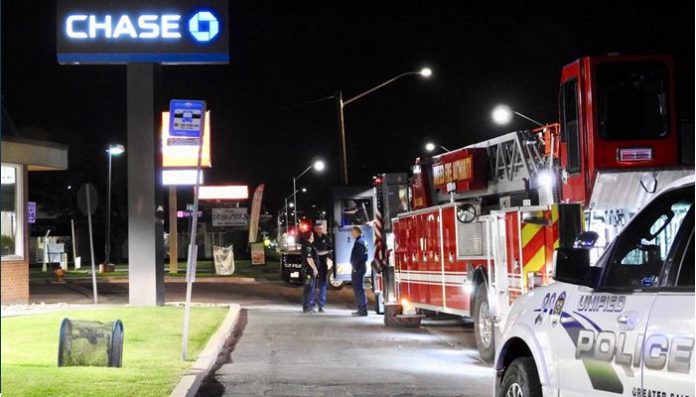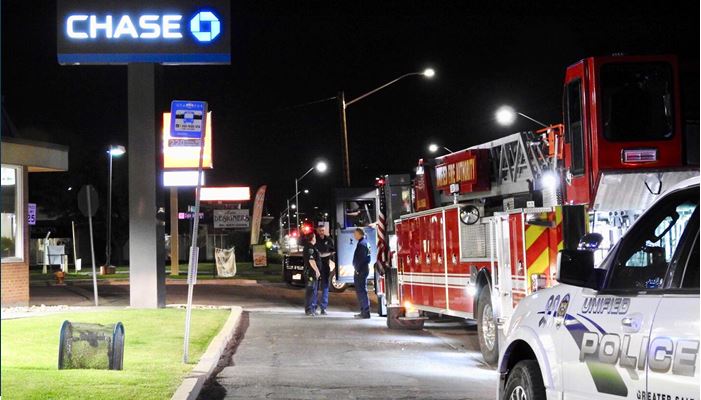 SALT LAKE CITY, Utah, June 21, 2019 (Gephardt Daily) — A would-be bank robber broke into a Chase Bank on Thursday night and left behind fingerprints, bloody handprints, and all the cash, untouched in the vault.
Lt. Paul Barker, Unified Police Department, said officers were dispatched at 11:19 p.m. and arrived two minutes later at the bank, 3080 S. Highland Drive.
"On the south side of the building, there's broken glass, so we believed we had someone inside," he said at the scene. "The information we were getting was from the security company that had video inside and could see a male inside, going through the business."
The exits were blocked, so officers elected to wait outside due to the shattered window glass, protecting investigators and a K9 from being cut.
A bank manager arrived with keys, and alerted officials to the building's layout, to help with the search.
"We got the K9 and started searching," Barker said. "The dog was indicating on some of the back offices, and the officer clearing with the K9 also saw blood inside, indicating the suspect had injured himself when making entry to the bank."
The man broke some glass to get in, apparently cutting himself in the process, Barker said.
Officers found a closet with a ladder for roof access, but that access was blocked by a padlock, Barker said. There was also an opening into the false ceiling area, and there was blood on the ladder.
So officers used flashlights and cellphones mounted on poles to search the false ceiling area without entering it. They also pushed up ceiling tiles in other areas of the office, but did not spot their suspect.
"They were dripping with sweat, with guns and flashlights, but there was no indication of his being up there," Barker said.
Blood was also left on the massive vault opening mechanism, but the vault remained locked and closed.
Barker said because the exits were sealed, it appears the man left the same way he came in, probably before officers arrived on scene. Barker said officers still had to follow their procedures to ensure the scene was secure and safe, inspecting the roof, basement, and every nook and cranny of every room.
Officers remained to collect all the evidence, and Barker said the security company should be able to provide photos of the man, who was last caught on camera at 11:12 p.m. walking toward his point of entry.
"As far as the manager could tell, nothing appears to be missing," Barker said. "All the money was secured in the vault.
"It doesn't appear to be a very high-tech burglary. He took one of the rocks from the landscape, and that's what he used to make entry.
"He doesn't appear to be the smartest guy in the world. I think we'll catch him."