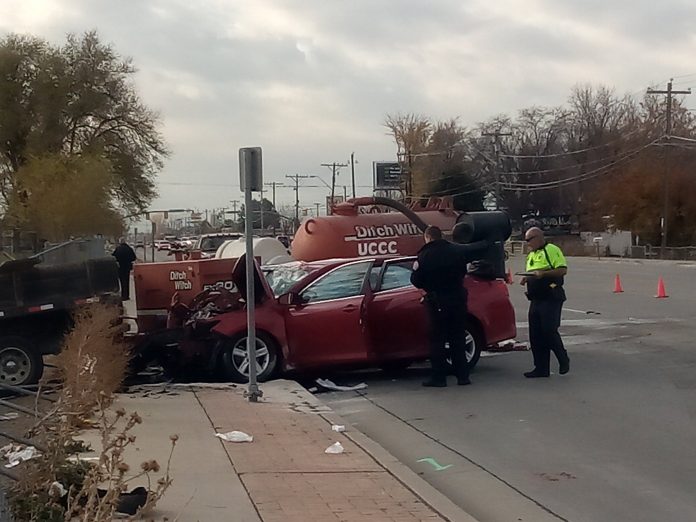 WEST VALLEY CITY, Utah, Nov. 7, 2017 (Gephardt Daily) — A 25-year-old woman is dead after the stolen car she was a passenger in collided with a pickup truck on Tuesday morning in West Valley City.
West Valley City Police have identified the woman as Elcina Tso.
The incident occurred at 2900 S. Redwood Rd. (1700 West) at approximately 8:15 a.m., West Valley City Police Department spokeswoman Roxeanne Vainuku told Gephardt Daily.
A Toyota Camry, reported stolen out of West Valley City, was travelling southbound on Redwood Road when the male driver dropped something in the vehicle and reached down to get it, Vainuku said.
The Camry veered into oncoming traffic and hit a pickup truck hauling equipment, traveling northbound on Redwood Road, partially head on.
Tso was trapped inside the Camry and had to be extricated. She was transported by ground ambulance to an area hospital in extremely critical condition, where she subsequently passed away. The 35-year-old driver of the Camry had broken bones. The two people in the pickup truck were not injured.
All lanes were closed at 2900 S. Redwood Road northbound, and southbound was reduced to two lanes while a Crash Analysis Reconstruction Team (CART) investigated the crash.