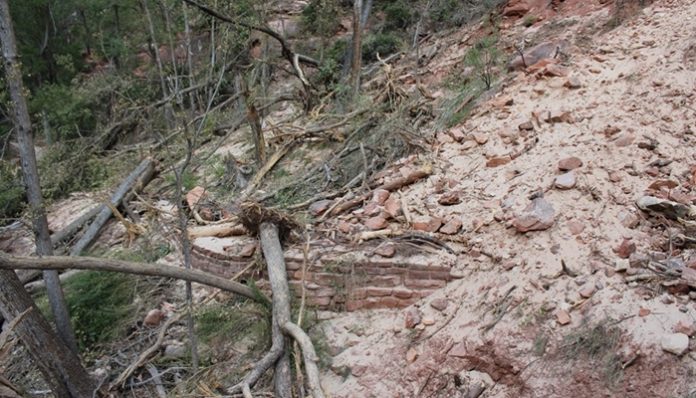 SPRINGDALE, Utah, Oct. 27, 2019 (Gephardt Daily) — Zion National Park officials are making progress in assessing the stability of an area damaged by a large rockfall earlier this summer.
"A large rockfall occurred on the East Rim Trail on Aug. 24," said a Facebook post from the park Sunday. "These photos are of the Weeping Rock Trail, which was also damaged by the debris flow. The source of the rockfall was a location on Cable Mountain, high above the trail.
"As the large chunks of Navajo sandstone tumbled down and broke apart, they created a wind gust that knocked down trees and branches. The rocks and sand ended up covering a large part of the Weeping Rock Trail."
Now, two months later, with the help of state geologists, the park is making progress assessing the stability of this area, the post said.
"This is necessary before work to clear and repair the trail can begin," the post said. "We still don't know what we may find under the debris. Perhaps the trail will be unscathed or perhaps it will require significant repairs."
The post added: "The size and scope of this event means that we shouldn't expect these trails to open in the near future. We may not know how long to expect this area to be closed, but you can always check the current conditions on our website."
Currently, the Weeping Rock shuttle stop and all trails that start there are closed, including Observation Point, Hidden Canyon, and Weeping Rock Trails.
Park officials said they will update the website as well as social media as more information is received.