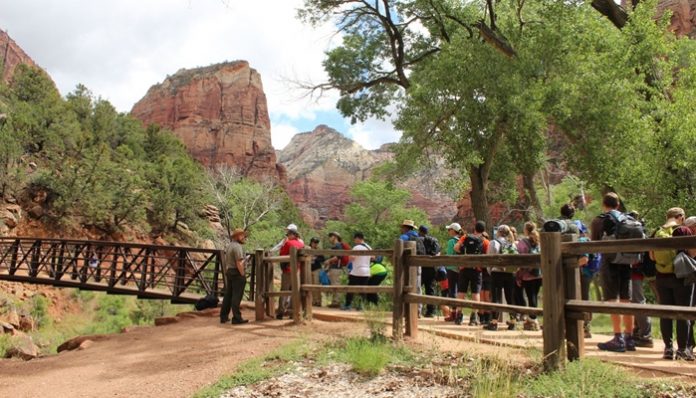 SPRINGDALE, Utah, May 26, 2019 (Gephardt Daily) — Zion National Park reported Sunday that the line for the popular Angels Landing hike was "several hours long" by noon due to Memorial Day crowds.
"The line for Angels Landing, which is forming at the Grotto Trailhead, is several hours long," park officials tweeted. "Consider hiking elsewhere or arriving earlier tomorrow. No parking is currently available in Zion. Park in Springdale or consider trying again after 3:30 p.m."
On Friday evening, the park tweeted:
"Parking was full at 8:30 a.m. today. We expect the same each day this weekend. When all available parking at the Zion Canyon Visitor Center is full, park in Springdale and use the free town shuttle to reach the Visitor Center. Please park legally and responsibly. Arrive early!"
The park tweeted Thursday:
"Memorial Day Weekend starts tomorrow! Last year over 86,000 people visited Zion during the four-day holiday weekend. Will you be one of them in 2019?"
For more tips on visiting Zion during the park's busiest weekend of the year, click here.