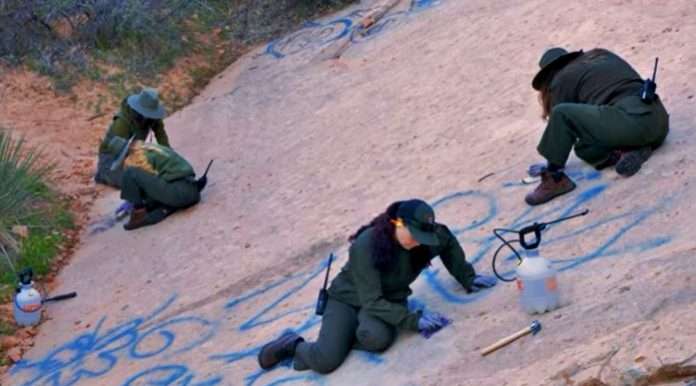 ZION NATIONAL PARK, Utah, April 18, 2022 (Gephardt Daily) — With the tourist season gearing up, officials at Zion National Park are asking the public to respect and preserve the beauty of the park, and to report any active vandals or existing vandalism they may encounter.
"Rangers and volunteers in Zion have been spending hours cleaning unnecessary vandalism in the park such as rock carvings and scratches, stickers, permanent markers, and spray paint," says a post on the park's Facebook page.
"Not only is graffiti unsightly it damages natural and cultural resources that the park protects. Over 5 million people visit Zion every year. Allow other park visitors to experience the wonder of Zion by leaving rocks, plants, artifacts, and other objects as you found them."
There are many ways people can share their experience other than carving rock or leaving spray paint, the post says.
"Take a photo, write a letter or postcard, draw a picture, share your experience on social media. Leave spaces that you visit in the same or better condition than you found them; Leave No Trace."
Park officials urged visitors to respect Zion's "leave no trace" principles by:
Planning ahead and preparing: Check nps.gov/zion before you visit for trail conditions and current operations.
Traveling and camping on durable surfaces: Protect vegetation and fragile cryptobiotic soils by staying on established trails.
Disposing of waste properly: Carry out all trash, including food wrappers, fruit peels, and nut shells. Dispose of waste in a proper trash can or dumpster.
Leaving what you find — Leave the park in a natural state for others to enjoy. Leave rocks, plants, and other natural objects as you find them.
Minimizing campfire impacts-When permitted, fires are only allowed in established fire rings in the campgrounds
Respecting wildlife. Zion is home to many wild animals. Help keep them wild and healthy by viewing them from a safe distance.
Being considerate of other visitors-Let the natural sounds of Zion prevail. Use headphones when listening to music and avoid using loud voices.