SALT LAKE CITY, Utah, Dec. 5, 2017 (Gephardt Daily) — To the uninformed, a Disney stage musical about the New York City paperboys' strike of 1899 may not sound like a rousing good time.
Ignore that first impulse. "Newsies" tells a gritty and inspiring story of young underdogs uniting and striking to win fair treatment from news magnate Joseph Pulitzer, and helping other child laborers as a result.
Pioneer Theatre Company's cast was more than up to the task of entertaining and inspiring in a production that rivaled the national touring production that passed through Salt Lake City in 2016.
Johnathan Shew, himself a tour veteran, plays the charismatic Jack Kelly, a newsie who dreams of escaping the big city.
But until then, Jack has friends to look out for, including the handicapped Crutchie (Austin Archer, who studied at Weber State University and has acted in New York City).
But when Pulitzer (William Parry) decides to increase his profits by charging newsies more for the papers they buy to resell, someone must fight for fairness, and Jack is the natural leader. And he is supported by the most educated newsie, new arrival Davey (Stephen Michael Landon).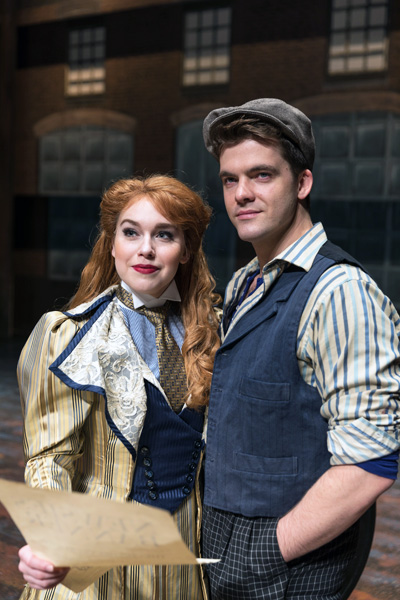 Stepping forward to spotlight the cause is hard news reporter wannabe Katherine (Nadia Vynn), who Jack views as a possible love interest, probably out of his league. Vynn does an exceptional job of conveying Katherine's every dizzying emotion through song.
Shew's Jack is strong as the main character to move the story forward, and also has spectacular dance skills, as do the rest of the dancers/tumblers. The dances are vigorous, energetic, and precision all at the same time.
(And kudos to Archer, who even manages to keep up in the dances he is in while maneuvering on one foot and his stick crutch.)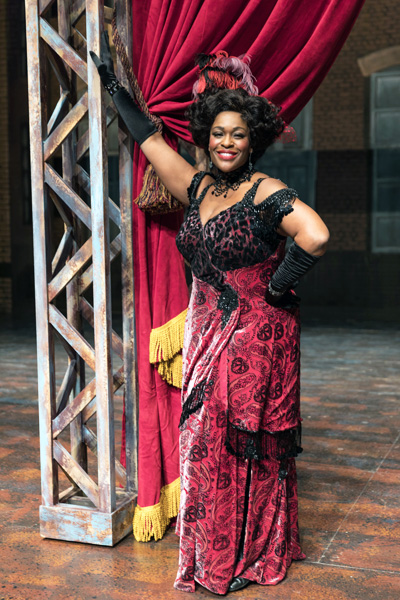 Another strong and sensitive character is Landon's Davey. Landon manages to convey convincing growth in the course of a 2.5 hour musical.
And Cicily Daniels as Vaudeville theater owner/singer Medda Larkin makes a rich and lasting impression despite limited stage time.
The efforts of the whole cast went into a show that deserved the opening night standing ovation it got.
PTC artistic director Karen Azenberg, guest musical director Tom Griffin and choreographer Lenny Daniel worked together to 
create a memorable show that will make you leave the theater singing and dancing, whether you want to or not.
And longtime scenic designer George Maxwell and guest costumer designer David Kay Michelsen bring form and function to the newsies' world, which makes the show possible.
This show is going to be a hit, and deserves to fill all the theater's seats.
The show runs through Dec. 20 at Simmons Memorial Theatre, on the U of U campus. For ticket information, click
here
.