Salt Lake County Sheriff's Annual Awards Banquet Highlights Individual Sacrifice and Dedication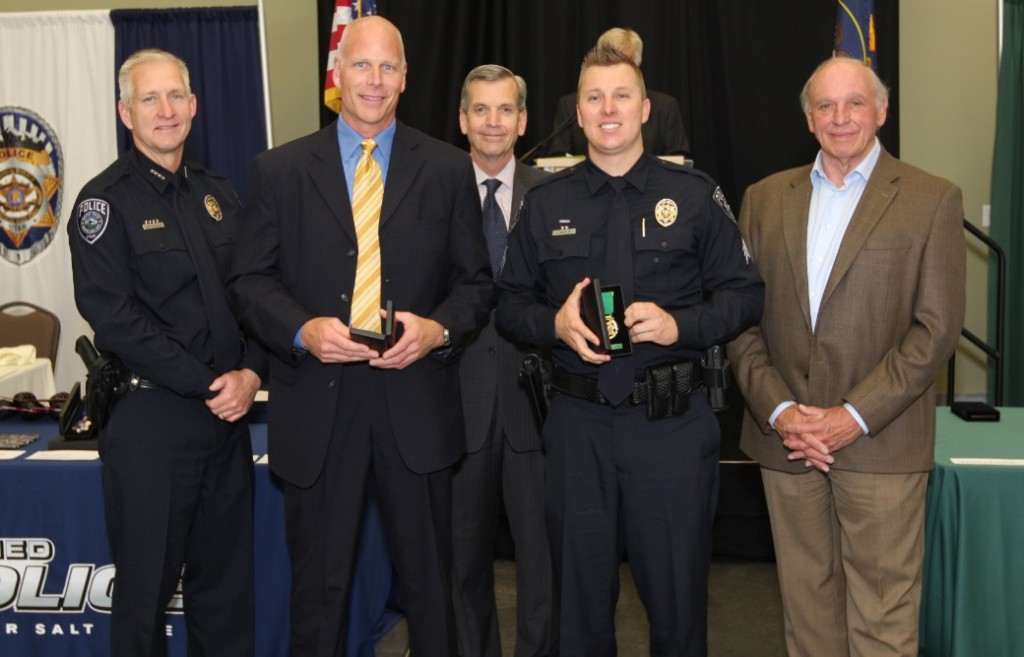 WEST JORDAN, UTAH – May 20, 2015 (Gephardt Daily) – The Salt Lake County Sheriff's Office and Unified Police Department yesterday held a banquet to honor individual law enforcement officers, administrators and citizens throughout the valley for their exceptional performance and ongoing commitment to serving the community.
Sheriff James M. Winder, Salt Lake County Sheriff's Office presided over the awards ceremony to recognize others for their individual acts of heroism, sacrifice and dedication. "It is said in that in the heart of all men lies great brightness and great love," said Winder.
Winder said he understands how those who work in law enforcement have been unfairly identified as a conglomerate of one. "We all wear different uniforms, work for different agencies, have different roles. We come from different backgrounds and have different reasons for doing what we do. We as individuals should not be ostracized by the actions of other individuals, but recognized for our individual efforts,"  said Winder.
"I would hope the general public would continue to embrace that each and every one of those involved in law enforcement are individuals who continue to embrace their duties and who can take a look at a situation, make a choice to step forward with their hands out to help, even at grave risk, but solely out of the greatness that is in their hearts," he said.
The recipients of the awards were all presented with a medal, a ribbon and a certificate as well as a copy of the description of the event that lead to the award.
The banquet, narrated by Doug Wright of KSL, included a special musical number by Kurt Bestor as well as a traditional cake cutting ceremony where the newest member (hired the day of the banquet) and the oldest member (43 years of service) shared cutting the cake.
Sergeant James Morton, who now works out of the Unified Police Department Riverton/Herriman precinct was awarded the law enforcement officer of the year for his outstanding skills and professionalism within the Salt Lake Area Gang Project. His efforts have included 135 arrests and 46 search warrants as well as seizing 24 firearms, $115,224 in cash and over $1,279,00 worth of illicit narcotics. He knows all too well how quick any situation can turn dangerous working with those involved in gangs, drugs and who often carry weapons. "A lot of times, these individuals are mixed up in using drugs and do things that are out of character for who they really are. Out of desperation they get themselves caught up in a bad situation and are not thinking clearly," said Morton.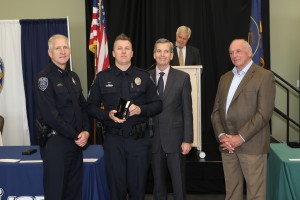 When asked about receiving this award he said being the recipient was rewarding. "I was just excited at being nominated but when I was actually chosen that was an amazing feeling," said Morton.
Officer Jacob Bulkley, who is a bailiff at the West Jordan Courthouse received the Protective Services Officer of the Year award for his exceptional work as a training instructor for the UPD and the Sheriff's Office Corrections Academy. He has lead or participated in over 50 training classes and is currently a lead field training officer and leads nine groups of recruits. He is also a member of the Active Shooter Training Team who has helped train over 1,000 Salt Lake County employees and Utah State Court employees in 2014.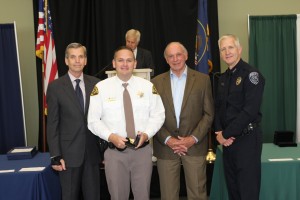 "I think that we can change the way the public thinks of law enforcement. A lot of people do not understand what Protective Services even does and once they hear about it they want to be a part of it more. We are in the court rooms, court houses and government places," said Bulkley. He also understands how important training officers is in making sure the public feels something is being done to help make them feel safer. "The way in which we train now is changing and I think that is going to make a big difference. Just in the last five years so much is being done to make sure training is being done properly."
Bulkley, a little shy about receiving any award, was surprised to be recognized in such a way. "I just like to go to work and I get to work with really good guys. Its cool, that's all I can really say, I was shocked by it all," said Bulkley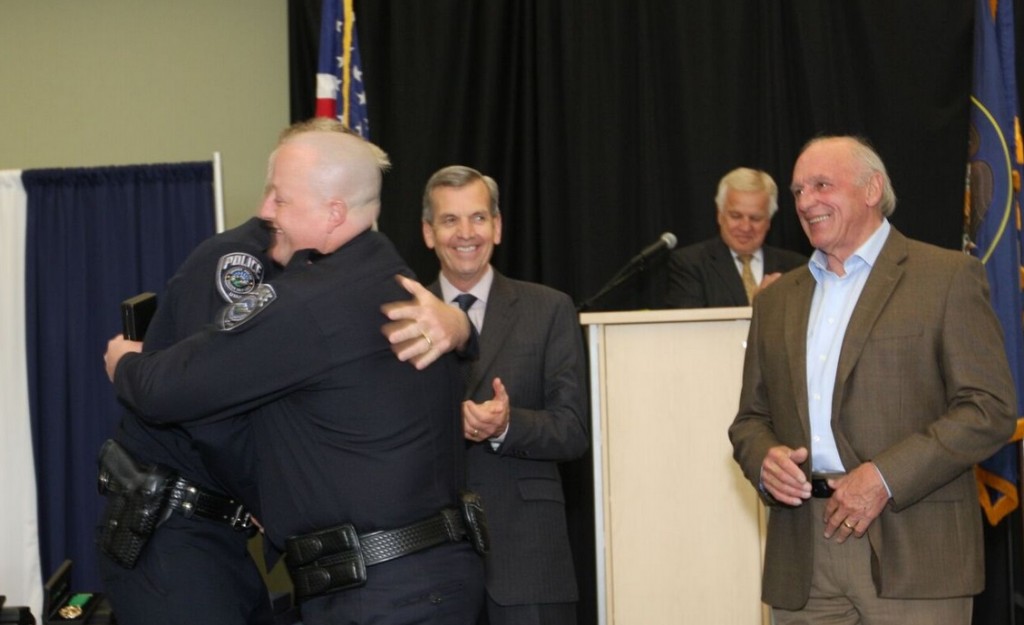 One of the Chiefs Awards recipients received just a little more for his sacrifices. Officer Brett Miller of the Taylorsville precinct suddenly found himself receiving a promotion during the banquet. His long list of accomplishments, including 154 arrests, 53 search warrants, 29 guns seized, 22 stolen cars recovered, $62,566 in US currency and over $500,000 in combined narcotics seized earned him a new position as Sergeant.
The Fallen Officer's Tribute, an annual tradition, includes an empty table with a place setting for one. Those attending took a moment of silence for those who paid the ultimate price to protect others and preserve the freedoms we all enjoy. The table setting for one, symbolizes the fact that members of the law enforcement family are missing from their ranks.