SOUTH JORDAN, UTAH – August 25, 2015 (Gephardt Daily) – Ten-year-old Malachi Bradley was found alive and well yesterday after being lost nearly 30 hours in the Uintah's Ashley National Forrest Sunday, making him the third child lost while camping in six weeks.
In Idaho, two-year-old Deorr Kunz disappeared on July 10, after his parents allegedly left him with his grandfather for about 45 minutes. He has yet to be found and there has been no trace of the little boy since.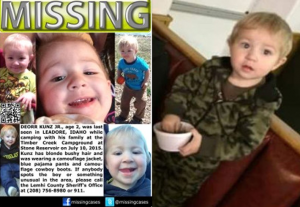 On August 6, 2015,  just three weeks later, five-year-old Jerold Joseph Williams went missing from Jacob Lake when he wandered about 200 yards out of his mom's sight. His body was found by Coconino County Sheriff's Office five days later.
In 2013, Andre Duran, a 14-year-old boy who ran away from his group in the Ashley National Forrest, was found safe after a three day search and rescue effort and in 2011 Jared Ropelato, a lost 12-year-old Boy Scout, was found alive after a 24-hour search in Daggett Lake, UT.
All three of the older boys' search operations ended with the best possible outcome and it is being said Malachi was very well educated about the dangers of the mountains and what to do in case he got lost.
But age doesn't always make a difference in the outcome of the search. Garrett Bardsley, a 12-year-old Utah boy went missing from Cuberant Lake in 2004 and has never been found.
As a way of coping with not knowing what happened to his son, Garrett's father Kevin started The Garrett Bardsley Foundation and helps with various search and rescue operations for other missing children. In an article written for americantowns.com, Tim Hawkins, the father of a missing 11-year-old boy Brennan Hawkins, who was found alive the next day, told Kevin he didn't want him to have to relive the nightmare he went through trying to find his son and urged him to go home. Kevin's response? "This is where I'm meant to be."
Many Utahns enjoy being in the wilderness on a regular basis, but that doesn't mean everyone has prepared their children for what to do if they suddenly find themselves alone and lost.
According to Pinemountaintrail.org, a safety list is a great tool for people going into the mountains with children. "Children can hike safely. Like adults, they just need a survival kit to put in with their day pack, a few rules and some instruction."
The site says young children should be taught to stay within eyesight and older children must stay within earshot and must call often. By three to four years, many children can carry a whistle to call for help when lost. Even children as young as two can learn to blow a whistle if they can't find mommy or daddy.
The standard distress signal for children old enough to understand is three blows to indicate "I'm lost," or "I need help." For very young children, they should blow the whistle until someone finds them.
Robert Hendriksen, who has been in scouts since 1978, has been an adult scout volunteer since 1989 and camp leader since 2013, said the most important thing to teach your child is to stay put. "Trying to find their way back is the worst thing they could do. Others trying to find them will have a pretty good idea of where they were last seen, and if you're are lost and keep moving you might wander into an area that's already been searched," said Hendriksen.
Pine Mountain Trail also says that reminding your children to stay on the trail at all times can prevent them from getting lost and from causing confusion in the markings on the trail for other hikers to follow.
Also, bring plenty of water and dress appropriately based on the amount of time in the woods, the time of year and the weather conditions.