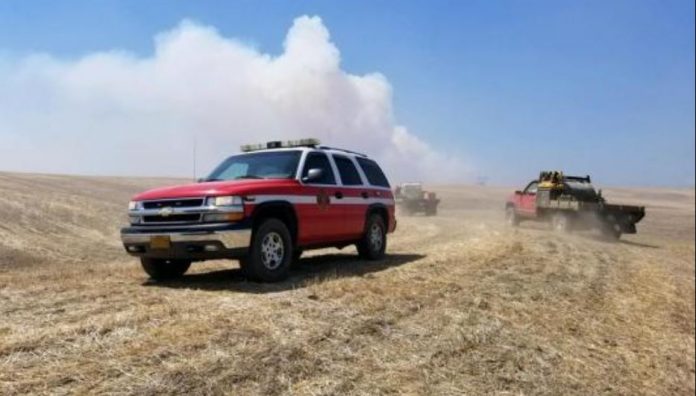 July 18 (UPI) — One person died and residents in two counties were ordered to evacuate Wednesday as the result of a 36,000-acre wildfire in northern Oregon.
Wasco County Sheriff's office said it found a tractor driver who appeared to have died as a result of exposure to the Substation Fire after responding to a report of a burnt tractor at about 1:30 p.m. on Wednesday.
The sheriff's office said it is believed the person was attempting to suppress the blaze by creating a fire line and the incident is under investigation.
Evacuations were issued for Wasco County and Sherman County and U.S. 97 was closed from approximately Biggs Junction to near the highway's junction with U.S. 197.
One structure, the Charles E. Nelson farmhouse was reported burned, according to The Oregonian.
Oregon Gov. Kate Brown declared the Substation Fire, burning near The Dalles, a conflagration, which cleared the way for the state fire marshal to mobilize firefighters and equipment to assist local resources battling the blaze.
"To ensure the safety of local residents, and given the dry and windy conditions on the ground, I am invoking an emergency declaration to make additional state resources available to firefighters and first responders," Brown said.
The fire began on Thursday near an electric substation. Lt. Damon Simmons, a state fire marshal's office spokesman, said much of the fire is burning in wheat fields and it is traveling faster than most grass fires.