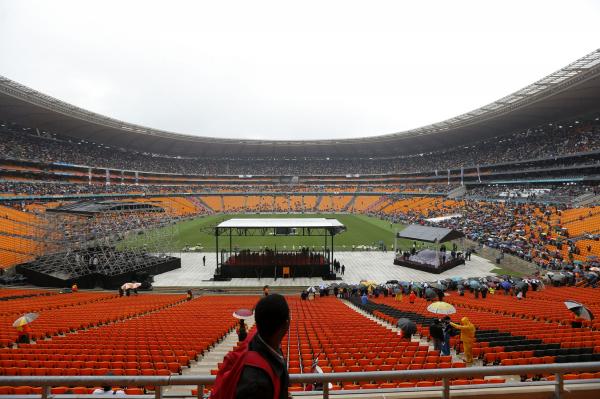 July 29 (UPI) — Two people were trampled to death during a stampede Saturday inside a Johannesburg, South Africa, soccer stadium during a match between two rival teams known as the Soweto derby.
The incident happened during a match between the Kaizer Chiefs and Orlando Pirates at FNB Stadium, which was filled to its 87,000-seat capacity at the time. Police confirmed the deaths and said several other people were injured.
They did not say what caused the stampede. The game continued and the Chiefs won, 1-0.
FNB Stadium is Africa's largest sporting arena, having hosted the 2010 FIFA World Cup championship match when the Netherlands defeated Spain, 1-0. It has also played an important role in South African politics. Nelson Mandela gave his first speech there after being freed from prison in 1990, and the stadium hosted a mass public memorial for Mandela after his death in 2013.