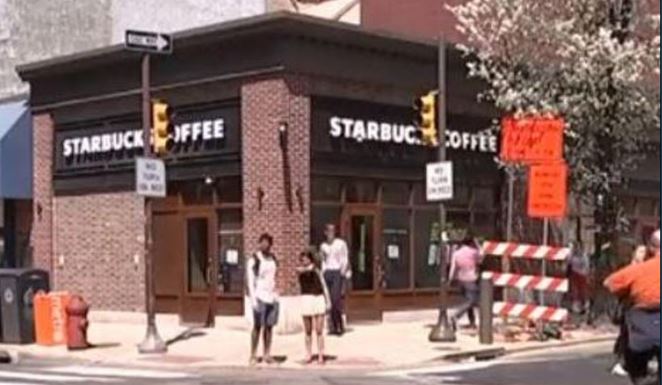 May 3 (UPI) — Two black men arrested at a Starbucks settled with the city of Philadelphia for $1 each and an undisclosed settlement with the company.
The city also agreed to a request by Rashon Nelson and Donte Robinson to set up a $200,000 program for young entrepreneurs in public high schools, the mayor's office said Wednesday.
In a separate settlement with Starbucks, they will receive "a financial settlement as well as continued listening and dialogue between the parties," the company said in a statement. The men's attorney was not available to comment.
Two weeks after the incident, the two men have released the city and its employees from "any and all claims," city spokesman Mike Dunn said.
Nelson and Robinson won't receive any money from the high school program but will serve on a committee to establish and award the grants.
"Rather than spending time, money, and resources to engage in a potentially adversarial process, Rashon Nelson and Donte Robinson approached the city and invited us to partner with them in an attempt to make something positive come of this," Mayor Jim Kenney said in a statement. "This agreement is the result of those conversations, and I look forward to seeing the fruits of this effort in the coming months and years."
The city said the money will come from its Finance Department budget.
Nelson and Robinson are 23-year-old entrepreneurs.
On April 12, they were sitting in the Starbucks waiting for a business associate when the store manager called police.
An arrest video sparked a nationwide outcry, including days of protests in Philadelphia.
The city police commissioner apologized and Starbucks CEO Kevin Johnsoncalled the arrests "reprehensible."
Afterward the company announced all U.S. stores will be closed on the afternoon of May 29 to conduct racial bias training.
"I want to thank Donte and Rashon for their willingness to reconcile," Johnson said in a statement. "I welcome the opportunity to begin a relationship with them to share learnings and experiences. And Starbucks will continue to take actions that stem from this incident to repair and reaffirm our values and vision for the kind of company we want to be."