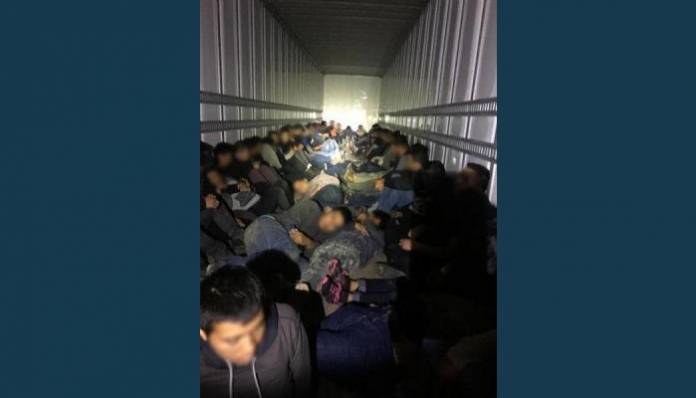 July 6 (UPI) — In five separate incidents, the U.S. Customs and Border Patrol arrested nine U.S. citizens who allegedly smuggled 64 undocumented immigrants across the U.S.-Mexico border over the past week, the agency announced Thursday.
Three incidents occurred on June 30, with the first involving an American woman who was arrested at an immigration checkpoint for smuggling 10 people across the border. Later, two more American women were arrested after CBP found seven undocumented immigrants in the back of their trailer. And three hours after that incident, two men were arrested after CBP agents found 21 undocumented immigrants hidden in their box truck.
Two more incidents occurred on July 1. In the first, two men were arrested after 14 people were found hidden in the sleeper compartment of their truck. After that, two people driving an 18-wheeler were arrested for smuggling 12 people who were found locked in the trailer compartment.
All of the alleged smugglers were turned over to U.S. Immigration and Customs Enforcement for prosecution.
"These rescues are a result of stepped-up enforcement at our immigration checkpoints coupled with our search and rescue efforts that are key to preventing unnecessary loss of life," CBP Acting Chief Carla L. Provost said in a statement.
According to CBP data, 286,290 people have been caught crossing the border illegally this fiscal year, which began in October 2017. That number is significantly lower that last fiscal year at this point, which was 328,450
In June, the number of apprehensions was down 18 percent from the previous month with 42,565. But this year's June totals was nearly double of June 2017, which saw 21,657 apprehensions.