PHILADELPHIA, April 3 (UPI) — At least two people were reported dead after an Amtrak train derailed Sunday after it struck a backhoe left on the tracks near Philadelphia.
The train struck the construction vehicle around 8 a.m. Sunday in Chester, Pa., causing the train's engine to derail, the New York Daily News reported.
CBS Philly reported that two Amtrak employees were killed in the crash and that at least 16 people were taken to local hospitals to be treated for injuries.
About 30 other people were reportedly injured.
The train left New York City early Sunday morning bound for Savannah, Ga., carrying 341 passengers and seven crew members, according to a statement from Amtrak.
The Northeast Corridor service line, one of the nation's busiest, was closed Sunday between New York and the accident site
Amtrak said in its statement crews assessed people on the train for injuries because initial reports had injuries on board the train.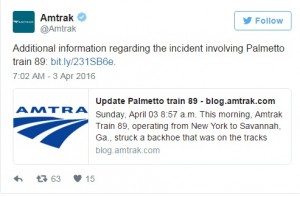 A United Methodist Church in nearby Trainer was used as a staging scene, NBC 10.com reported. Emergency crews were seen loading people on to waiting vehicles to take them away from the scene to be checked out at local hospitals.
Trains along the Wilmington-Newark Linewere suspended until further notice and Amtrak suspended all trains between New York City and Philadelphia.
Individuals with questions about their friends and family on train 89 should call Amtrak's Emergency Hotline at 800.532.9101.
In its statement, Amtrak said the Palmetto 89 train "operating from New York City to Savannah, Ga., struck a backhoe that was on the tracks and derailed the lead engine south of Philadelphia."
The accident comes almost a year after another Amtrak accident near Philadelphia claimed the lives of 8 people and injured more than 200 on May 12, 2015 when the speeding train derailed while traveling g around curved tracks.
Another Amtrak train derailed in May 2015 near Philadelphia, killing eight people. Officials are still trying to determine the exact cause of that crash, CBS News reported..
Last month, another Amtrak train derailed in Kansas, although no one was killed in that crash.
There is no word yet on when the tracks might reopen.