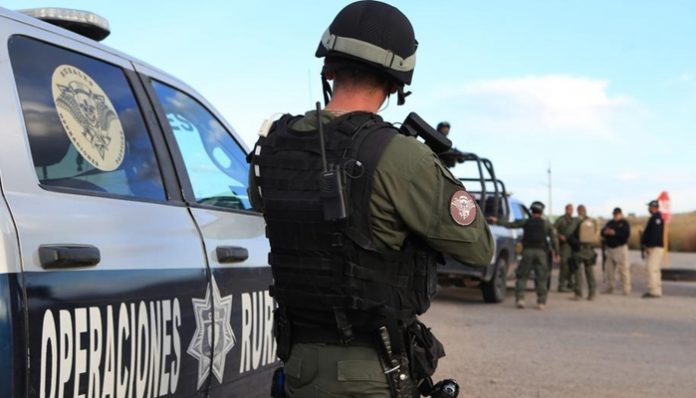 SONORA, Mexico, Nov. 6, 2019 (Gephardt Daily/UPI) — Mexican police have arrested a man holding two hostages after nine members of a family with Utah ties were killed in an ambush by alleged members of a drug cartel in Sonora, Mexico.
The family members were part of a decades old settlement founded by followers of a fundamentalist religious group called The Church of the Firstborn, an unauthorized offshoot of The Church of Jesus Christ of Latter-day Saints. The group has a compound called La Mora close to where the women and children were killed.
The Ministerial Agency for Criminal Investigations said the suspect was arrested with several rifles, including large-caliber guns, and a stockpile of ammunition, according to UPI. He was found in the hills of Agua Prieta in the state of Sonora.
Attorney General Cesar Peniche Espejel confirmed the arrest but could not confirm details of the suspect's involvement in the massacre. He said he believes the drug cartels have splintered since drug kingpin Joaquin "El Chapo" Guzman was arrested.
"We are waiting for some more intelligence in order to issue an official statement," he said.
The attack on the family could be the work of a newly formed cartel, Los Jaguares, an offshoot of Guzman's Sinaloa cartel, Espejel said. U.S. officials have said a rival cartel, La Linea, could be to blame.
Family member Lafe Langford, Jr., posted video of a burned-out, bullet-riddled Chevy Suburban in a field next to a road near the Sonora-Chihuahua border after the massacre.
"This is for the record, Nita, and four of my grandchildren are burnt and shot up. Right on the road out of La Mora."
Nita was later identified in Langford's post as Rhonita Miller, 30. Also killed were Miller's children, 12-year-old Howard Junior, 10-year-old Krystal and eight-month-old twins Titus and Tiana, multiple news outlets reported.
The SUV they were traveling in was hit with so many rounds that the gas tank exploded.
Two more SUVs filled with family members were fired on about 10 miles further down the same road. Investigators found more than 200 shell casings, mostly from assault weapons, at the scene. That's where Dawna Langford and her children, 11-year-old Trevor and two-year-old Rogan were killed.
Just yards away, 29-year-old Christina Langford Johnson hid her baby on the floorboards of the back seat. Officials say she got out with her hands up, but was shot and killed. Her baby, seven-month-old Faith, was found 11 hours later unharmed.
A 13-year-old, Devin Langford, was able to hide six of his injured brothers and sisters in nearby brush, covering them with branches before walking 14 miles to find help.
Several children were injured in the ambush, including an 8 year old, who was shot in the jaw and leg; an 8-month-old infant, who was shot in the chest; a 4 year old, who was shot in the back; and a 14 year old, who was shot in the foot. They were flown to Douglas, Ariz., where they were transported to hospitals in Tucson.
Former Mexican Foreign Minister Jorge Castaneda told CNN the family has a history of conflict with the drug cartels and may have been targeted. He didn't believe this was a case of mistaken identity.
"They had stood up to the drug cartels and they did have certain frictions either with the cartels or with neighboring communities over water rights," Castaneda said.
The driver of the first vehicle in the convoy was known as an activist who defended her family and the community against the cartels on the issue of water rights, Castaneda said.
Mexican authorities were aware of the feud, and had 90 federal police stationed around the community since 2011 because of tensions between the family and the cartels. The security was scaled back under the governor but it's not clear how many were there Monday.
By Tuesday morning, U.S. President Donald Trump had posted a reaction to the killings:
"A wonderful family and friends from Utah got got between two vicious drug cartels who were shooting at each other, the result being many great American people killed, including young children, and some are missing," his first tweet, issued Tuesday morning, says. "If Mexico needs or requests help in cleaning out these …..
"(His second tweet begins) …. monsters, the United States stands ready, willing & able to get involved and do the job quickly and effectively. The great new President of Mexico has made this a big issue, but the cartels have become so large and powerful that you sometimes need an army to defeat an army!"
Mexican president Andrés Manuel López Obrador declined Trump's offer at his daily press briefing.
"It's not in agreement with our convictions," he told reporters. "The worse thing is war."
Numerous news agencies are referring to the victims as Mormons, although they are not affiliated with The Church of Jesus Christ of Latter-day Saints. The LDS Church has clarified that point in the past.
"We are heartbroken to hear of the tragedy that has touched these families in Mexico," LDS Church spokesman Eric Hawkins said in a statement to Gephardt Daily.
"Though it is our understanding that they are not members of The Church of Jesus Christ of Latter-day Saints, our love, prayers and sympathies are with them as they mourn and remember their loved ones."
A GoFundMe page has been set up to assist the affected families.