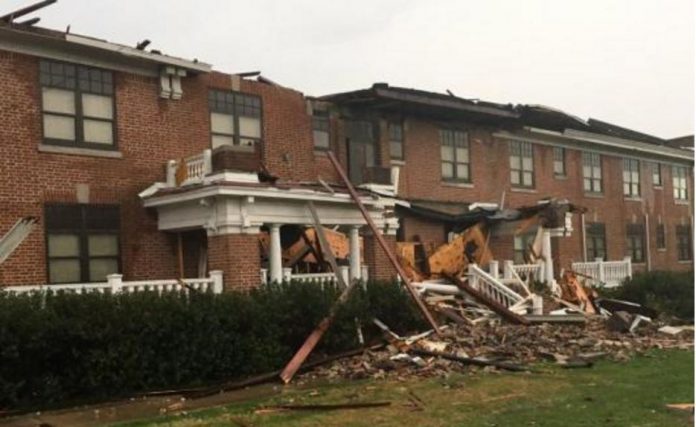 MISSISSIPPI, Jan. 21 (UPI) — At least three people were killed in Mississippi after severe weather including a large tornado swept through the area on Saturday morning.
The death toll is expected to rise as the tornado and other severe storm conditions caused extensive damage in Hattiesburg and Petal including damages to structures, missing roofs as well as downed trees and power lines, WDAM reported.
Mississippi Gov. Phil Bryant shared condolences on Facebook and said he had made contact with the Mississippi Emergency Management Agency regarding relief.
"I have been in regular contact with MEMA and have have ordered all available resources toward rescue and recovery," he said. "I will travel to the affected areas today to get a full assessment of the damage and the need. I ask all Mississippians to join me and Deborah in praying for the loved and lost."
Search and rescue teams were deployed to Hattiesburg where downtown buildings including a fire station and portions of William Carey University were damaged.
"Officials working to ensure students are safe. Some students reporting minor injuries. Damage to dorms, Tatum Court, Thomas Hall," the University's Twitter account stated on Saturday morning.
William Carey public relations coordinator Mia Overton reported some students were injured.
"There are some minor injuries," Overton said. "Officials are working to ensure students are safe and accounted for. There is damage to most buildings on campus including cars and a home across campus is damaged."
Multiple gas leaks were also reported in Hattiesburg and Petal after lines ruptured and residents were trapped in a building in downtown Hattiesburg.
The Mississippi Highway Patrol reported that Interstate 59 north of Hattiesburg was closed due to debris and most roads in Petal were deemed impassible.
The severe weather is expected to continue as it moves through the southeastern portion of the state.