Baltimore Orioles to Compensate Workers Who Lost Wages During Protests
BALTIMORE, May 13 (UPI) — An empty Orioles Park at Camden Yards meant no baseball for fans, but no fans meant no wages for stadium workers.
Now the Baltimore Orioles are giving wages back to those workers, who missed out on five home dates.
The ballpark was closed to fans as chaos covered the streets of Baltimore during protests after 25-year-old Freddie Gray suffered a spinal injury while in police custody and later died.
The Orioles closed one of the stadium gates on April 25 and held fans inside momentarily for safety reasons following a game. The team then postponed two games before playing a third against the Chicago White Sox in an empty stadium. The Orioles home series against the Rays was then relocated to Tampa.
"Due to the extraordinary circumstances that led to several cancelled or rescheduled games, the Orioles organization will compensate all hourly employees for hours that would have been ordinarily worked the week of April 27," the Orioles said in a statement. "This adjustment will be added to your 5/29 paycheck."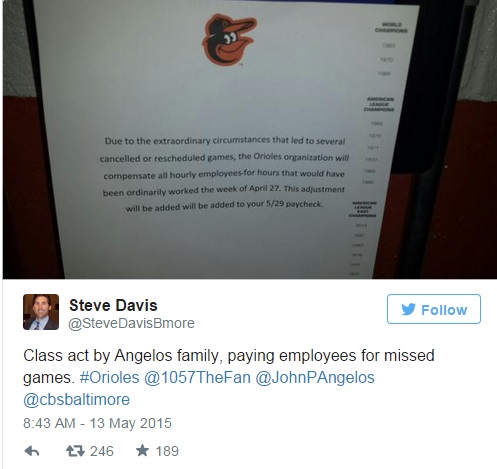 The Orioles also said that "Delaware North, a global foodservice and hospitality company, would compensate its concession workers for the hours missed," according to the Huffington Post.
Orioles chief operating officer John Angelos previously hinted at the move on MSNBC.
"No, I think that that would be an unfair result," Angelos told MSNBC. "I think we need to do something that will make people whole. This is an extraordinary situation that happens — well, hopefully, it never happens — but when it does happen, you gotta solve the larger problem, but you don't want individuals to pay the price."
NBC Sports reporter Bill Baer created a GoFundMe account for the hundreds of employees at the ball park who missed out on pay during the closure. The account raised more than $2,000, but Baer has since decided to refund the money in light of the news.
The Orioles welcomed back 20,468 fans to Camden Yards for "ReOpening Day" May 11, in a 5-2 win over the Toronto Blue Jays.