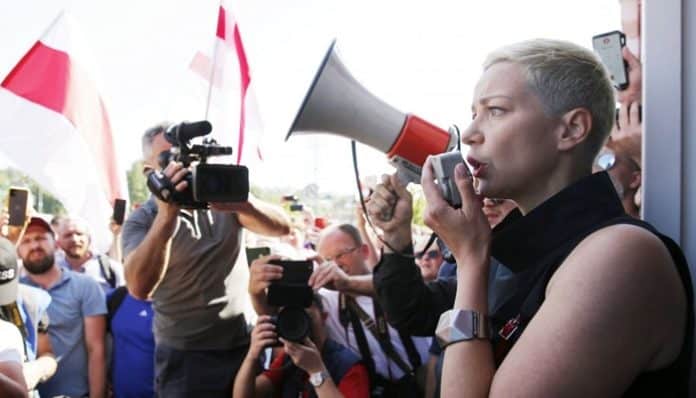 Sept. 7 (UPI) — A Belarusian court on Monday sentenced opposition leader Maria Kolesnikova to 11 years in prison for threatening national security, her supporters said.
Kolesnikova's lawyer, Maksim Znak, also received 10 years in prison, according to fellow opposition leader and human rights activist Sviatlana Tsikhanouskaya.
"We demand the immediate release of Maria & Maksim, who aren't guilty of anything. It's terror against Belarusians who dare to stand up to the regime. We won't stop until everybody is free in Belarus," Tsikhanouskaya tweeted.
The BBC reported Kolesnikova and Znak joined an opposition council after President Alexander Lukashenko was elected in 2020 — a disputed election that prompted nationwide protests and a subsequent crack down that saw opposition leaders either arrested or exiled to other countries.
Prosecutors accused the opposition Belarusian Coordination Council of attempting to organize a coup, and arrested Kolesnikova and Znak. They were accused of plotting to seize power.
Both leaders denied involvement in a coup and said their trials were shams.
The council said in September of last year that Kolesnikova, Znak and two other members were abducted in Minsk after Lukashenko's political opponent, Tsikhanouskaya, fled the country in the wake of the election. Kolesnikova refused to leave Belarus, even after she was threatened with exile, tearing up her passport at the Ukrainian border to avoid being sent there.
The United States called on Belarus to release Kolesnikova and other political detainees and end violence against protesters and journalists in the wake of the contested election.
Kolesnikova has remained in prison for more than 11 months since her abduction and arrest.
Her supporters gathered outside the court Monday, calling for Kolesnikova and Znak's release.
"It's terror against Belarusians who dare to stand up to the regime," Tsikhanouskaya tweeted. "We won't stop until everybody is free in Belarus.
On Monday, the United States condemned the conviction of Kolesnikova and Znak as politically motivated and their sentencing as "shameful."
"These sentencings are further evidence of the regime's total disregard for the human rights and fundamental freedoms of the people of Belarus," Secretary of State Antony Blinken said in a statement, urging the Lukashenko regime to dialogue with the democratic opposition with the purpose of holding "free and fair elections" under the supervision of international observers.
"We stand with like minded partners in support of the Belarusian people's aspirations for a democratic, prosperous future in a free and independent country," he said.
The United States has imposed punitive economic and diplomatic measures against the Lukashenko regime following the election and subsequent crack down on peaceful protests, including last month on the anniversary of Lukashenko's election to a sixth term in office when President Joe Biden issued a wide-ranging executive order that sanctioned 23 people and 21 entities.
Other Western allies, such as Canada, Britain and the European Union, have also enforced punitive sanctions targeting the leadership of Belarus.
In Britain, Dominic Raab, the secretary of State for Foreign, Commonwealth and Development Affairs, described the pair's sentencings as a continuation of Belarus' assault on democracy and freedom.
"Lukashenko's regime must halt this repression and release all political detainees," he tweeted.