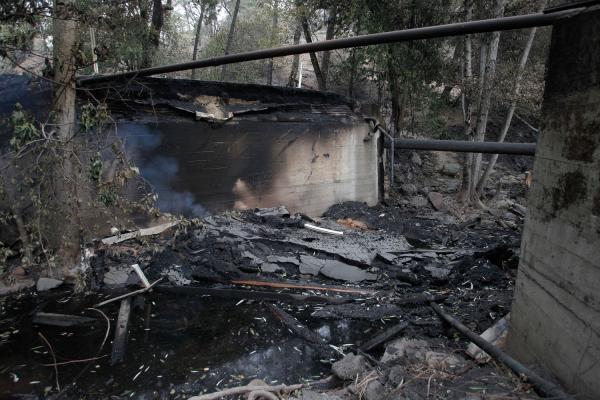 SANTA CLARITA, Calif., July 24 (UPI) — A homicide investigation is under way after a body was found amid the wreckage of a raging wild fire spanning more than 30 square miles east of Santa Clarita, Calif.
The body was discovered a day and a half after the Sand Fire had destroyed numerous structures and prompted the evacuation of about 1,500 homes. The fire spread ash and smoke across Southern California, KTLA reported.
The burned body was found on North Iron Canyon Road, which is in the fire evacuation area, Los Angeles County Sheriff's Lt. Rob Hahnline confirmed. A man who lived on that road had become separated from his significant other. The body was found in a burned car, a neighbor said.
The Sand fire was reported Friday afternoon and is still only 10 percent contained, the Los Angeles Times reported.
So far, it has burned down 17 homes and is threatening another 1,500,
ABC7 reported.
According to latest figures released Sunday, the blaze has burned 22,000 acres, or about 35 square miles. Some 100 commercial structures are also threatened.
The homes lost to the fire were in Sand Canyon, Little Tujunga and Bear Divide, SoCal Incident Management Team spokesman Marc Peebles said. Several other buildings were destroyed on a movie ranch in the area.
It wasn't until Saturday afternoon the wild fire moved in to an area with many homes when winds shifted from the northwest to the southwest, driving the fire closer to the Sand Canyon neighborhood, fire officials said.
"Those residents have to be watching the weather, watching the media, and have to be ready to evacuate," said Los Angeles County Fire Department Deputy Chief John Tripp.
The fire burned more than 2,000 acres over night, fanned by wind gusts of up to 40 mph.
Peebles said more than 1,673 firefighters, 122 engines, eight fixed-wing air-tankers and six heli-tankers are working to extinguish the wild fire.