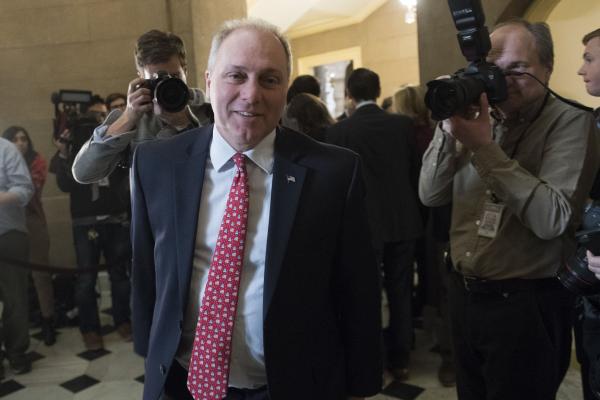 ALEXANDRIA, Virginia, June 14, 2017 (Gephardt Daily/UPI) — House Majority Whip Steve Scalise and at least three others were shot Wednesday morning during a congressional baseball practice in Alexandria, Va., police and witnesses said.
The shooting took place at an early morning baseball practice being held for GOP members of Congress who were preparing for an annual game with Democratic members of the House.
The shooter opened fire at the baseball field on East Monroe Street in Del Ray near a YMCA about seven miles from the White House.
Alexandria police on Twitter said the suspect is in custody and is not a threat, adding that victims were taken to hospitals.
Witnesses speaking to media on scene describe the shooter as a white male who was armed with a rifle. They say he fired between 50 and 100 shots before being shot himself by security personnel. The extent of his injuries were unclear.
Scalise was taken from the scene by medical helicopter.
The White House issued the following statement:
"The Vice President and I are aware of the shooting incident in Virginia and are monitoring events closely. We are deeply troubled by this tragedy. Our thoughts and prayers are with members of Congress, their staffs, Capitol Police, first responders, and all others affected."
President Donald Trump said he expects Scalise, 51, will "fully recover."
"Rep. Steve Scalise of Louisiana, a true friend and patriot, was badly injured but will fully recover. Our thoughts and prayers are with him," Trump wrote on Twitter.
Sen. Rand Paul, R-Ky., who was at the baseball practice, said he heard "at least 50 or 60 shots" during the shooting. Paul said Scalise was in second base when he was shot.
Those injured include Scalise, two Capitol Hill police officers and the gunman, CBS News reported.
"[Scalise] goes down but is moving, and is crawling towards the outfield … I'm seeing shots skipping off of the warning track," Paul said.
Paul said Capitol police were at the practice to protect Scalise because he holds a leadership position. He said more people would have been injured had the officers not been on site.
"It would have been a massacre," Paul said.
Rep. Mo Brooks, R-S.C., who also was at the scene, said five people were injured in the shooting as House Republicans were practicing for an upcoming baseball game. Brooks said security officers fired back at the shooter.
Brooks said a helicopter landed in the field to evacuate one of the most wounded in the shooting.
The gunman shot Scalise, R-La., in the hip area, Brooks said. At least one aide was shot in the chest.
White House press secretary Sean Spicer said that President Donald Trump and Vice President Mike Pence "are aware of the developing situation in Virginia."
"Our thoughts and prayers are with all affected," Spicer wrote on Twitter.
The FBI was at the scene. The practice was for a bipartisan game scheduled for Thursday.
This is a developing story.