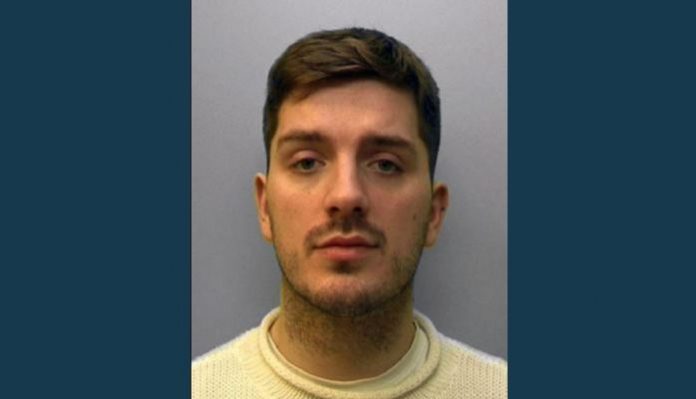 April 19 (UPI) — A British man was sentenced to life in prison Wednesday after a court found he deliberately infected five men with HIV and attempted to infect several others.
Daryll Rowe, a 27-year-old hairdresser from Brighton, will serve at least 12 years of his sentence, which was the first time in Britain that a person was imprisoned for "grievous bodily harm" by intentionally infecting others with HIV.
"As long as he has strength in his body, he will be a risk," one of Rowe's victims said after the hearing, according to the Guardian. "He is a menace to society. He is a sociopath because I don't think he has any regard for other people's feelings."
After Rowe was diagnosed with HIV in 2015, he went on the gay dating app Grindr to find men to have sex with between October 2015 and January 2016. If the victims refused to have unprotected sex, Rowe manipulated the condom.
Afterward, he texted his victims with mocking messages, such as "I have HIV LOL. Oops," the BBC reported.
In another message, he wrote: "I ripped the condom. I got you."
In late 2015, Rowe went on the run and to northeast England, where he continued to seek out men to have sex with and gave a false name in case they looked him up and found he was wanted by police in Brighton. He was eventually arrested in February 2016.
Rowe's attorney asked Judge Christine Henson QC for a lighter sentence so as not to stigmatize HIV infection.
"This is not a terminal illness," the attorney said, according to the Telegraph. "Those who live with HIV have good and high life expectancies."
She added: "There really is a need for therapy and not incarceration."
But Henson said a life sentence would not be about "stigmatizing anyone with HIV" but about the "immense" psychological effects Rowe caused to his victims.
"They describe living with a life sentence as a result of your cruel and senseless acts," she said. "Many of those men were young men in their 20s at the time they had the misfortune to meet you…I cannot see how and when you will no longer be a danger to gay men."