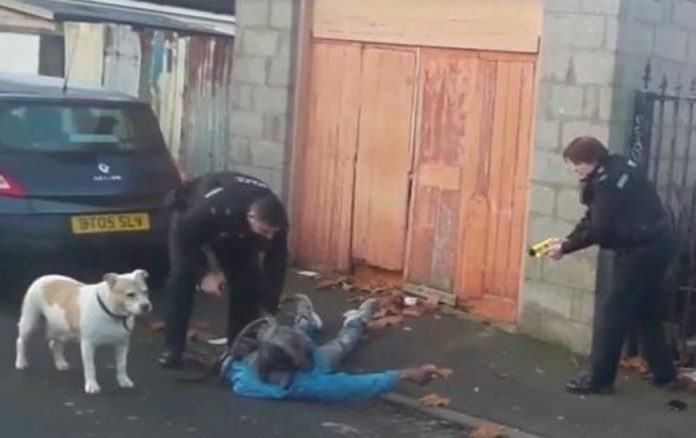 BRISTOL, Jan. 21 (UPI) — British police used a Taser on a race relations adviser who works to smooth tensions between law enforcement and the black community after mistaking him for a criminal suspect.
The encounter between police and Judah Adunbi, a 63-year-old grandfather of three, was captured on video as two officers approached him while he walked his dog in a Bristol alley behind his home, according to The Telegraph.
Video filmed by a neighbor shows Adunbi walking down the street in a hooded sweatshirt as police approached him and asked for his name.
"I'm not telling you my name. I've done no wrong," Adunbi can be heard saying.
The officers then followed Adunbi where they attempted to grab him until an officer fired a stun gun near his lip while he attempted to push their arms away.
"I felt that was it because of the way I fell back. The way I fell backward on the back of my head. I was just paralyzed. I thought that was it. I thought they were taking my life," he said.
Adunbi, who is a prominent member of Bristol's black community and one of the founders of the Independent Advisory Group set up by the police to improve relationships with the British African-Caribbean community, said the officers handled the situation inappropriately.
"At first you don't accuse someone of being someone else. You ask questions," he said. "The first thing they should have done is come to me in a polite manner. The way they approached me – they were accusing me. That is wrong."
Both officers remain at work as the Independent Police Complaints Commission has begun investigating the altercation, according to ITV.
Chief Superintendent Jon Reilly of Avon and Somerset Police said he met with Adunbi and the two had a "constructive conversation" about concerns within the local community.
"I understand the community are going to have concerns. And we'd really like to answer those. But as there's an ongoing investigation that's very difficult for us to do," he said.
He added that police were wearing body cameras during the encounter and the footage was offered to the commission voluntarily for review.
"I want to reassure the community the whole incident was captured on body-worn camera. Both officers were wearing it. And we're determined to understand what happened," he said. "That's why we've referred it, voluntarily, to the Independent Police Complaints Commission for them to assess whether an independent review is necessary. We work really hard to work positively with all communities and I see no reason why that should change."
Adunbi was originally charged with assaulting a constable in the execution of their duty and using threatening or abusing behavior or disorderly behavior likely to cause harassment, alarm or distress.
The charges have since been dropped, but he admitted the entire situation was difficult for him to process.
"It's a little distasteful in my mouth," Adunbi said. "To know that I'm one of the founder members of the Independent Advisory Group, which was created some years ago in order to improve better relationship between the Afro-Caribbean community and the constabulary, and to be treated like this it's difficult."