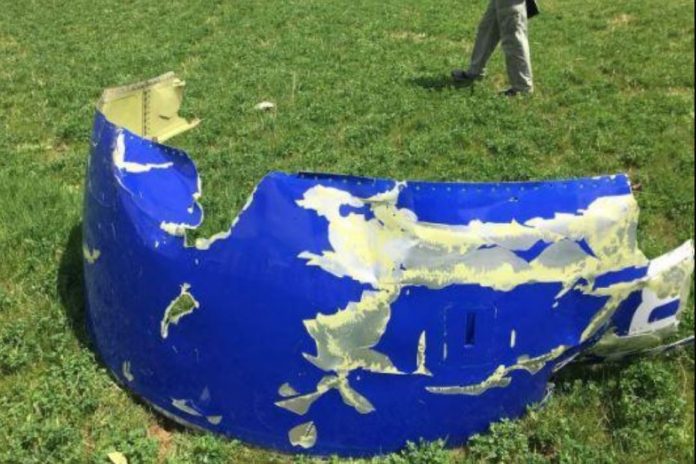 April 19 (UPI) — The Federal Aviation Administration has ordered enhanced inspections of certain Boeing 737 engines after an explosion on a Southwest Airlines flight this week killed a woman.
The FAA said it will issue a safety directive for ultrasound inspections of CFM56 engine fan blades that have accumulated a specified number of flight hours.
"I'm very concerned about this particular event," National Transportation Safety Board Chairman Robert Sumwalt said Wednesday. He added, though, that it's too early to determine whether the accident pointed to a large-scale problem.
Emergency alarms on the plane acted properly and the plane rolled at a severe 41-degree angle after the left engine failed, he said. He also noted "a fair amount of vibration" and said the airliner landed in Philadelphia at an above-average speed of 190 mph.
The entire incident, he said, lasted 22 minutes.
The CFM56 engine is regarded as a reliable workhorse of the airline industry. Nearly 6,700 aircraft around the world are powered by the engines, which have been in use since 1997.
"I can't think of a better one," former Continental Airlines CEO Gordon Bethune told CNBC. "This never happens, and the likelihood of it happening again in your lifetime is probably remote."
The Southwest Airlines Boeing 737 was traveling from New York City to Dallas on Tuesday when a blade broke free from one of its CFM56-7B engines — manufactured by General Electric and France's Safran Aircraft Engines. Debris from the engine and cowling penetrated the plane's wing and fuselage, shattering a passenger window.
The plane made an emergency landing in Philadelphia, where a passenger died of injuries from the explosion — the first death on a commercial airliner in the United States since 2009. The pilot, Capt. Tammie Jo Shults, a Navy fighter jet veteran, has been lauded for her calm and expertise in landing the plane safely.
The fan blade in the plane's left engine broke off as the plane cruised normally, a result of gradually weakening metal, the NTSB said. The fast-spinning blade apparently tore through the cowling, a cover at the leading edge of the engine.
Debris from the blade and cowling sprayed across the wing and fuselage of the moving plane, former NTSB air crash investigator Alan Diehl told the Wall Street Journal.
Parts of the cowling, which directs air to the blades, were found scattered across a 65-mile section of Bucks County, Pa.
Southwest, United Airlines and Delta Air Lines said this week they will increase voluntary inspections.
#FAA Statement: Airworthiness Directive (AD) – Required Inspections of Certain CFM56-7B Engines.
In August 2016 another Southwest jet sustained a similar engine failure. Flight 3472 made an emergency landing in Pensacola, Fla., after the cowling on its left engine ripped off, with sections of it penetrating the fuselage. An NTSB investigation found that a blade from the fan separated from the engine.