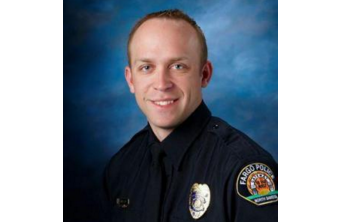 FARGO, N.D., Feb. 12 (UPI) — A Fargo, N.D., police officer died after being shot during a domestic disturbance call.
Officer Jason Moszer, 33, was shot Wednesday at the start of a standoff with an armed man identified as Marcus Schumacher, 49. Schumacher barricaded himself in his home and exchanged gunfire with police SWAT teams, the Fargo Police Department said.
On Thursday morning, police found Schumacher, who has a criminal record, dead of a gunshot wound. It was not determined if the injury to Schumacher, who was alone in the house, was self-inflicted or caused by police fire.
Moszer, among the first police officers on the scene, sustained a single gunshot wound while standing on the perimeter of the scene. He died Thursday, the first Fargo police officer killed in the line of duty since 1882 in the city of about 155,000.
Moszer "was out on the perimeter when we first arrived and were awaiting SWAT (teams). The suspect started firing out of the house, and Office Moszer was hit," said Fargo Police Chief David Todd.
The North Dakota Bureau of Criminal Investigation and the Cass County, N.D., Sheriff's Office, are investigating the incident.