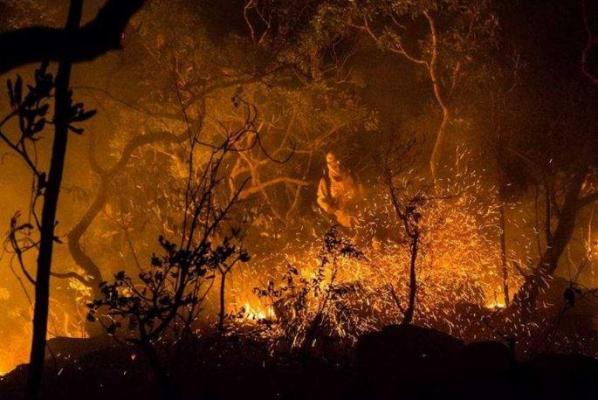 Oct. 25 (UPI) — Fire has engulfed about one-quarter of Brazil's Chapada dos Veadeiros National Park, a UNESCO World Heritage site, officials said Wednesday.
The park in central Goias state protects about 400 species of plants, has a number of high waterfalls and is home to several endangered species of animals — including the maned wolf, the jaguar, the rhea, the capybra and the merganser duck.
The Chico Mendes Institute for Biodiversity Conservation, which manages the park, said about 100 firefighters and park personnel are battling the fire.
Brazil's air force said it's working to contain to flames.
The entire park, which has about 60,000 visitors annually, has been shut down.
Park director Fernando Tatagiba said arson is a possible cause of the fire, which started last week. Over 130,000 acres of the 600,000-acre protected area have burned so far.
NASA heat-detecting satellites spotted the fire on the day it started. Subsequent photos show expanding dark brown areas, a sign of burned areas, and red spots indicating active fires.
Several other fires area were also observed — including one burning southeast of the park earlier this month. That fire was put out last week.