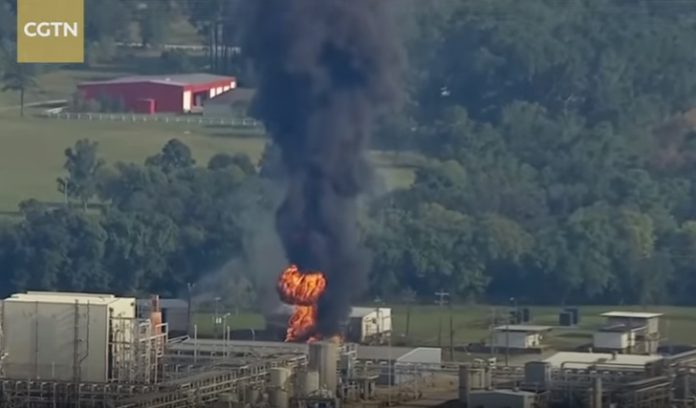 Sept. 8 (UPI) — Seven first responders who fell ill after responding to a chemical plant explosion during Hurricane Harvey in Houston filed a $1 million lawsuit Thursday against the plant owner for failing to warn them about the dangers in advance.
The responders accuse plant owner Arkema of ignoring "the foreseeable consequences of failing to prepare" and not warning them about the mandatory 1.5 mile evacuation around the perimeter of the plant in Crosby, Texas after an explosion emitted volatile chemical fumes, reported the Houston Chronicle.
"Although the explosions had occurred, no one from Arkema alerted the first responders who were manning the perimeter of the arbitrary mandatory evacuation area," lawyers said Thursday in a press release. "Immediately upon being exposed to the fumes from the explosions, and one by one, the police officers and first responders began to fall ill in the middle of the road."
"Emergency personnel arrived on scene, and even before exiting their vehicle, they became overcome by the fumes as well," the lawsuit states, according to the Washington Post. "The scene was nothing less than chaos. Police officers were doubled over vomiting, unable to breathe. Medical personnel, in their attempts to provide assistance to the officers, became overwhelmed and they too began to vomit and gasp for air."
Arkema, a French multimational company, denied the accusations.
"We reject any suggestion that we failed to warn of the danger of breathing the smoke from the fires at our site, or that we ever misled anyone," Arkema said in a statement. "To the contrary, we pleaded with the public, for their own safety, to respect the 1.5 mile evacuation zone imposed by the unified command well prior to any fire.  We will vigorously defend a lawsuit that we believe is gravely mistaken."
Hurricane Harvey has brought new scrutiny of Arkema, which has 133 facilities in 50 countries, including 26 in the United States, according to CNBC.
In February, the Houston plant was fined nearly $110,000 for 10 safety violations.
The violations were listed as "serious," meaning they would "most likely result in death or serious physical harm."
The company also recently told investors that its facilities are prone to "accidents, fires, explosions and pollution," which could potentially lead to lawsuits and compensation claims.