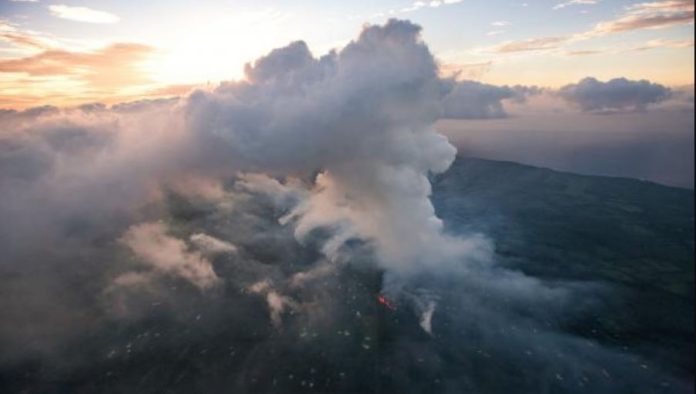 May 15 (UPI) — The National Weather Service issued another ashfall alert for residents on the island of Hawaii on Tuesday after the Kilauea Volcano sent a plume thousands of feet into the air.
The burst in volcanic ash from Halemaumau Crater occurred at about 7 a.m. The NWS said northeast winds were expected to carry the ash downstream across the Big Island Kau district, affecting the communities of Punaluu, Wood Valley and Naalehu into the early afternoon.
The agency warned people to avoid exposure to the ash because it causes eye and respiratory irritation.
The Hawaiian Volcano Observatory said most of the activity from Kilauea was centered at fissure 17, where lava was flowing about 20 yards per hour. As of Tuesday morning, the flow was about 1.2 miles from Highway 137.
Hawai'i County Civil Defense said no homes or roads were under threat.
Meanwhile, a 20th fissure opened Tuesday morning near fissure 19 in the Lanipuna Gardens subdivision.
HVO warned the eruption was still evolving and new outbreaks could occur both uprift and downrift of existing fissures.
"Communities downslope of these fissures could be at risk from lava inundation," the observatory said.
Civil defense said the Hawaii Department of Transportation was opening Highway 130 for local traffic, with metal plates covering cracks in the roadway. The agency also warned residents of Lower Puna to be alert to gas emissions.