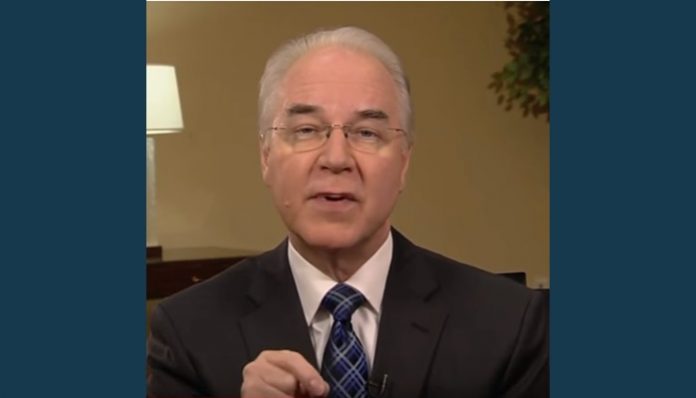 Sept. 23 (UPI) — The Department of Health and Human Services inspector general plans to investigate HHS Secretary Tom Price's use of a chartered jet, an agency spokesman said Friday.
Tesia Williams, a spokeswoman for HHS Inspector General Daniel Levinson, told The Washington Post his office plans to request records of Price's travel expenses on chartered flights, which allegedly cost taxpayers about $300,000.
The investigation stemmed from a report by Politico, which found the secretary chartered an Embraer 135LR twin jet through Ultimate Jet Charters for at least five flights between Sept. 13 and 15. Politico cited unnamed current and former staffers who said Price has been using private jets for travel for months.
Democrats called on the HHS Office of the Inspector General to probe Price's justification for using private jets instead of commercial air travel. They said his travel appeared to violate federal law making sure administration officials use the most economical travel possible.
An HHS representative issued a statement saying Price uses private jets when commercial travel isn't possible.
"As part of the HHS mission to enhance and protect the health and well-being of the American people, Secretary Price travels on occasion outside Washington to meet face to face with the American people to hear their thoughts and concerns firsthand," the representative said. "When commercial aircraft cannot reasonably accommodate travel requirements, charter aircraft can be used for official travel."
Politico reported commercial planes and trains were available for travel at the same time as the trips made between Sept. 13 and 15.
"OIG is conducting a review of Secretary Price's federal travel using chartered aircraft. The review focuses on whether the travel complied with federal travel regulations, but may encompass other issues related to the travel," Williams said. "We take this matter very seriously, and when questions arose about potentially inappropriate travel, we immediately began assessing the issue. I can confirm that work is underway and will be completed as soon as possible."
Price is the second Trump administration official to come under scrutiny for travel. The Treasury Department's inspector general is investigating Treasury Secretary Steven Mnuchin's use of a government jet in August.
The Citizens for Responsibility and Ethics in Washington, an ethics watchdog, accused Mnuchin and his wife of using a government plane — instead of a commercial flight — for a trip "that seems to have been planned around the solar eclipse and to enable the secretary to secure a viewpoint in the path of the eclipse's totality."