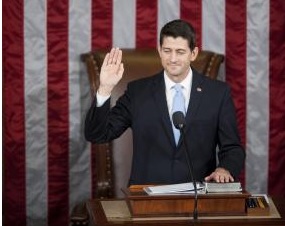 WASHINGTON, Nov. 1 (UPI) — Newly minted House Speaker Paul Ryan ruled out working with the Obama administration on overhauling U.S. immigration policy, putting to an end any chances for comprehensive reforms in President Obama's final year in office.
Ryan, in a series of taped television interviews Sunday, said Obama has "proven himself to be untrustworthy on this issue." He told NBC's Meet the Press consensus might be reached on lesser immigration policy, such as border enforcement, but a widespread reform is out of the question.
"Look, I think it would be a ridiculous notion to try and work on an issue like this with a president we simply cannot trust on this issue," the Wisconsin Republican said told CBS's Face the Nation. "He tried to go it alone, circumventing the legislative process with his executive orders, so that is not in the cards."
Ryan told ABC's This Week Republicans have not been a successful opposition party, saying the party needs to become more aggressive with a clear policy vision.
"We have been too timid for too long around here," he said. "We have been bold on tactics but not on policy, not on an agenda. We have to show people what our alternatives are and that is the kind of leadership I think people are hungry for here."
Ryan's recurring theme through his five-network talk circuit on Sunday was creating a Republican party that is more focused and productive. He stated plans to offer a clear agenda on the economy, foreign policy and healthcare. On CNN's State of the Union Ryan cautioned against expectations he will be able to pull federal fundingfrom the women's health organization Planned Parenthood.
"I think we need to be very clear about what we can and cannot achieve and not set expectations that we know we can't reach given the constraints of the Constitution," he said.
"I don't think Planned Parenthood should get a red cent from the taxpayer. I've always believed that, even before these disgusting videos came out," Ryan added. "But I believe we need to do our oversight. We're just beginning to start a committee to investigate Planned Parenthood. That's important. So the special committee on Planned Parenthood, I think, should be in the driver's seat overseeing this process."