SALMON, Idaho, Feb. 23, 2016 (Stephan Rockefeller) — A 25-year-old woman is being charged with first-degree murder after her 6-month-old daughter died of a methamphetamine overdose.
Court records obtained by EastIdahoNews.com show investigators discovered methamphetamine in a bottle of children's Dimetapp, a cold and allergy medication, and within a partially full baby bottle.
Lemhi County Prosecutor Bruce Withers announced the charge against Heather Elam Monday afternoon.
The baby, Serenity Gail Elmore, died more than a year ago, on Jan. 14 of last year. According to Lemhi County Sheriff Lynn Bowerman, Elam reported the baby was found unresponsive at her home.
"My office responded and we believed it was SIDS," Bowerman told EastIdahoNews.com. "An autopsy was performed and it was (discovered that) a lethal dose of meth (was) in the child's stomach."
Bowerman said autopsies are performed on all infants who die in Lemhi County.
Autopsy reports showed the presence of methamphetamine in the child's stomach, blood and urine. Investigators said the presence of meth in the stomach is consistent with oral ingestion.
Forensic toxicologists determined a lethal dose of meth was likely administered three to four hours before the child's death. Based on statements from Heather Elam and her roommate, Rob Parker, investigators believe Elam was the only person capable of delivering the meth to baby Serenity in the time frame before she died, according to court documents.
A witness also told police Elam had been in possession of meth the night before the child died.
When Serenity was brought to the hospital, she was in full arrest. Hans Rudd, the attending physician, was unable to find a heartbeat. He told police "it was apparent that (the child) has not been breathing or conscious for a long time."
Serenity was born on July 3, 2014 in Idaho Falls.
Elam is already incarcerated at the Pocatello Woman's Correctional Center. She was sentenced to a drug rehabilitation program stemming from a April 2015 charge of possession of a controlled substance.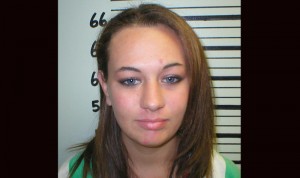 Idaho State Police served Elam with charging documents Tuesday at the Correctional Center. Charging documents show Elam could receive 10 years to life in prison.
Withers said the prosecutor's office will not pursue the death penalty in this case.