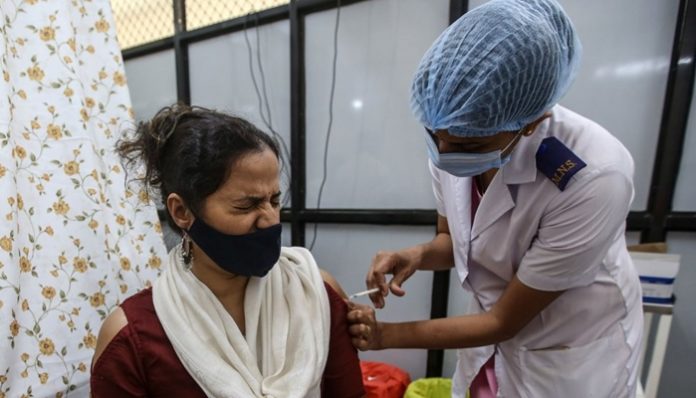 Feb. 7 (UPI) — Cases and deaths in India have fallen to the lowest levels since early last year, a trend that is more dramatic than the rest of the world as nations try to get control of the outbreak with restrictions and ramped-up vaccine rollouts.
India has surged to the third-most deaths at 155,038 and second-highest cases at 10,522,195 since the pandemic originated in Mainland China more than one year ago.
But in the nation of 1.4 billion people, the second-most in the world, the pandemic has dramatically subsided to double-digit deaths from a high of 1,283 in September and cases in triple digits from as much as 97,859, also in September.
On Sunday, India reported 78 fatalities, the lowest in nine months, and 12,059 infections. On Monday, cases dropped to 8,587, the fewest in eight months, while hospitalizations have also decreased.
Globally, cases and deaths are down. In the past week through Saturday the there were an additional 88,612 deaths compared with 98,425 the week before, according to Worldometers.info tracking. Cases have dropped from 3,790,121 to 3,197,885.
The total toll stands at 2,324,689 and cases are at 106,572,623. The United States leads with more than 462,000 deaths and nearly 27 million cases, according to tracking by Johns Hopkins.
One week ago Mexico passed India into second place and is now at 165,786 deaths but is 13th in cases at 1,926,080.
India has a much lower mortality rate of 112 per million compared with the world average of 298.1, the United States at 1,426 and Brazil at 1,083.
With better numbers in India, lockdowns have ended with business is booming.
Epidemiologists in India believe a significant proportion of the population already has been infected.
"When you start seeing the new strains, you may see problems," said Jacob John, an epidemiologist and community health physician in the state of Tamil Nadu told The Washington Post. "With a combination of natural infections and now vaccines, we might be able to beat this."
India also has accelerated its vaccination efforts and hopes to inoculate about one-quarter of the population, including medical personnel.
India has approved emergency use for one vaccine developed by AstraZeneca, and another by Indian company Bharat Biotech. Last week, it turned down an emergency approval for Pfizer-BioNTech.
India is now the only Asian nation in the top 10 for fatalities after Iran dropped to 11th at 58,469 deaths, including 57 Sunday.
In Asia, the death toll is 379,490, the fourth-most of the continents, and cases are 23,569,585, which ranks third.
Though the virus originated in Mainland China, the nation is now ranked 50th in the nation with 4,636 behind Bosnia and Herzegovina. China reported two deaths last month after announcing only one since April 27, a new verification on May 17. China added 11 cases Sunday.
Like India, China has developed its own vaccines. China last week gave regulatory approval to Sinovac Biotech Ltd. after earlier giving an OK to state-owned China National Biotec Group Co. in December and CoronaVac in July. The nation has administered more than 31.2 million doses, which is second to the United States with 39 million.
In other Far East nations, including Japan and South Korea, the numbers are substantially lower.
But Japan set a record last week with 120 deaths for a total of 6,441, including 52 Sunday. Cases were 1,631 from a high of 7,882.
South Korea's record is 40 deaths on Dec. 29 with seven announced Sunday for a total of 1,471, as well as 372 cases, behind the mark of 1,241 on Dec. 25.
Japan won't begin a vaccine rollout for another two weeks, the last of the Group of Seven nations to start. Japan's health ministry is set to formally approve the Pfizer vaccine on Feb. 15. First will be about 10,000 to 20,000 front-line health care workers at about 100 state-run hospitals, followed by 3.7 million healthcare workers.
In South Korea, vaccinations for medical workers won't begin until later this month followed by those 65 and older in May.
In Europe, six nations are in the top 10 for most deaths with Germany rejoining the list last week and moving up to ninth with 61,998.
Britain is fifth at 112,465, Italy sixth at 91,273, France seventh at 78,965, Russia eighth at 76,661, and Spain 10th at 61,386. Poland is 16th at 39,087.
Britain reported a high of 1,725 deaths on Jan. 20 with the past week's high 1,449 Tuesday and 373 Sunday.
Until the surge at the start of the year, fatalities had last surpassed 1,000 with a record 1,166 on April 21. Cases have been subsiding from a record 68,053 to 15,845 Sunday.
Britain's third lockdown remains in place, including closed schools and universities.
Prime Minister Boris Johnson has faced calls to end the lockdown, though a more contagious strain is still spreading in the kingdom and has surfaced throughout the world. And efforts are being made to improve on its vaccination rate of between 2.5 million and 3 million a week for a current total of more than 11.4 million getting their first dose, according to government data, out of a population of 66.7 million.
"To maintain a campaign like that you have to need venues where you can vaccinate thousands every day; have a population willing to be vaccinated; have trained individuals who can carry out inoculations; and have assured supplies of vaccine," Dr. Linda Bauld of Edinburgh University told The Guardian.
On Sunday, World Health Organization Special Envoy David Nabarro praised Britain's approach of spacing out second vaccine doses with it 12 weeks later.
"I think the UK's approach, so far at least, has been vindicated," Nabarro said on Sky News. "And yes, I think this is a great lesson for the rest of the world. Thank you, thank you British scientists."
Italy, which at one time was the world's epicenter, reported 270 deaths Sunday, compared with a record 993 Dec. 3 and 11,641 cases after record 40,896 on Nov. 13.
With Rome and Milan in eased "yellow zones" officials plan to reduce large crowds with extra patrols.
France is not in a nationwide lockdown, although one week ago the nation imposed new COVID-19 border restrictions with all but essential travel from outside the European Union banned and testing requirements on those from within the EU has been tightened.
On Saturday, France began distributing the AstraZeneca vaccine after earlier approving Pfizer-BioNTech and Moderna. So far, two million vaccines have been distributed.
France reported 171 deaths Sunday after 932 on Nov. 13 that was the most since a record of 1,437 in April. In addition, there were 19,715 cases after a record 86,852 on Oct. 31.
Russia announced 432 deaths and 16,048 cases after records of 635 fatalities and 29,935 infections on Dec. 4, ranking fourth overall in cases with 3,967,281.
Russia has developed its own vaccine, Sputnik V, which is 91.6% effective against symptomatic COVID-19, according to final-stage clinical trials results published in the medical journal The Lancet on Tuesday.
On Monday, all university students in Moscow will return to in-person classes.
Deaths have nearly doubled in Germany in a little more than one month.
In late December, Germany ranked 14th with 30,502 deaths. Now, the nation is ninth with 61,998, including a record 1,244 with no data so far Sunday. And cases hit 31,553 with 8,628 reported Saturday. Until mid-November, the most deaths were 333 on April 8.
Germany is in a lockdown that leaders said likely will extend another two weeks on Wednesday.
"We must stand on solid ground so we can open without having to close again soon," Chancellor Angela Merkel said in an RTL interview Thursday. "We need to be very careful in this last stretch so that not so many people die."
German health minister Jens Spahn has recommended using Russian and Chinese vaccines. Germany has approved the AstraZeneca vaccine, but the nation's vaccine commission has continued to insist it will not allow its use for those older than 65 because of a lack of testing on that age group.
So far in Germany, around three million vaccine doses have been injected in a population of 83.9 million people.
Spain has also ruled out allowing the AstraZeneca vaccine for those 65 and older.
Spain doesn't report data over the weekend with 584 deaths reported Friday.
The nation announced it is restricting travel from Brazil and South Africa starting Wednesday.
Europe remains No. 1 in deaths at 736,26 3and is less than 300,000 behind North America in cases at 31,323,689.
South America has four nations in the top 20. Besides Brazil in third, Colombia is in 12th with 55,693, Argentina in 13th with 49,110 and Peru in 15th with 42,121.
Overall, the continent has reported 427,824 deaths and 16,394,487 cases.
Less than 3% of the global vaccine doses so far have been administered in South America though the population is 15%.
"Latin American countries will vie for vaccines and medical supplies regardless of where they come from," Parsifal D'Sola, the founder and CEO of the Andres Bello Foundation, a think tank devoted to Chinese-Latin American relationships, told CNN. "So far, developed nations have bought over 50% of the available vaccines, so Latin America will likely reach out to China and Russia to fill the void."
On Friday, Brazil's health ministry announced plans to purchase 10 million doses of the Russian Sputnik V although vaccinations in the country are lagging.
One week ago, only half of 1% of the country's 213.5 million residents had received a first dose of the AstraZeneca or Sinovac vaccine with none getting both doses.
The U.S. has reinstated a ban on most non-U.S. travelers coming from Brazil as well as Britain, Ireland and the 26 countries that comprise the Schengen Area of Europe.
In addition, a travel ban between Mexico, the United States and Canada for non-essential travel is in effect through Feb. 21. It's been that way since March.
On Saturday, Mexico reported 1,496 deaths after a record 1,803 Jan. 21. Cases were 13,209 after record 22,339 Jan. 21. Until Dec. 31, deaths had only surpassed 1,000 twice, both in the summer.
Despite a surge, Mexico has been lagging in vaccination distribution.
Like other nations, Mexico approved the Russian Sputnik 5 after earlier allowing Pfizer and Astra-Zeneca.
Mexico was the first nation to roll out vaccinations in late December and has administered 5,321 daily, according to the Bloomberg tracker.
Canada is 21st in the world with 20,756 deaths, including 54 so far Sunday, as well as 2,658 cases. Canada set the record for deaths, 257 on Dec. 29, and cases, 11,383 on Jan. 3.
So far, Canada has vaccinated 2.37% of the 37.9 million population with 1.1 million received, according to tracking by CTV. Canada has authorized the Pfizer and Moderna vaccines.
"We are very much on track," Prime Minister Justin Trudeau said at a news conference last week. Though he said there is "is a lot of anxiety and a lot of noise," he expects 20 million doses in the sprig.
Ontario's stay-at-home order and state of emergency over COVID-19 is to expire this week with plans to gradually reopen parts of the province.
Canada has banned cruise vessels carrying more than 100 people from operating in Canadian waters through Feb. 28, 2022. Also adventure-seeking pleasure craft and passenger vessels carrying more than 12 people are not allowed to enter Arctic waters.
"As Canadians continue to do their part to reduce the spread of COVID-19, our government continues to work hard to ensure Canada's transportation system remains safe," Omar Alghabra, the transport minister said in a statement. Temporary prohibitions to cruise vessels and pleasure craft are essential to continue to protect the most vulnerable among our communities and avoid overwhelming our health care systems. This is the right and responsible thing to do."
All but around 24,000 of the total deaths in North America are in Mexico, Canada and the U.S.
North America has the second-most deaths of the continents, 685,097, behind Europe, and the most cases, 31,552,182.
Oceania, with only 42.3 million has 1,078 deaths and 50,381 cases.
New Zealand's deaths have remained at 25 since Sept. 16 and Australia's toll stands at 909 with the last two deaths Nov. 30 and Dec. 29.
New Zealand reported five cases Sunday, tallying 16 in one week, for a total of 2,320, and Australia was up two Sunday for 28,850, an increase of 39 in seven days.
On Monday, the Australian Open begins in Melbourne with 500 players out of quarantine after a hotel worker tested positive.
On Friday, there were recorded zero local cases of COVID-19 from 14,612 tests.
Africa has 94,922 deaths, which increased by about 4,000 in one week, and 3,681,578 cases.
South Africa reported 278 deaths Saturday with the record 839 Jan. 19 for a total of 46,180, which is 14th in the world as well as 3,184 cases for a total of 1,473,700, which is 15th in the world.
A variant first detected in South Africa has been spreading worldwide.
A study found the AstraZeneca vaccine provides limited protection against mild disease in cases caused by the variant but no data were available on protections against severe," Bloomberg reported.
Egypt is second on the continent with 9,604, including an additional 44 Saturday, and Morocco was in third with 8,394, gaining 13 Sunday.