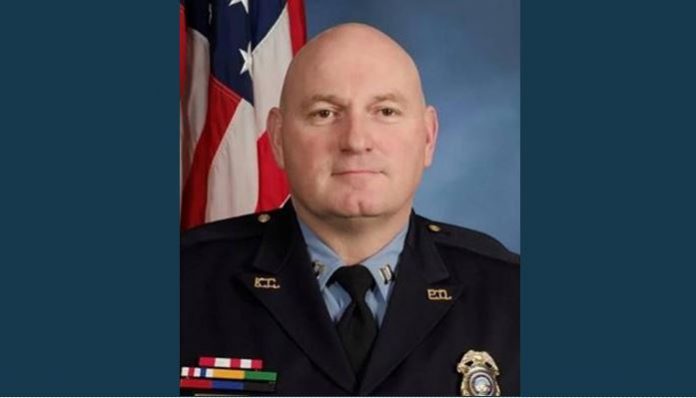 KANSAS CITY, Kan., July 19 (UPI) — A Kansas City police officer has been killed during the pursuit of drive-by-shooting suspects, police said.
Capt. Robert Melton, 46, was one of the responding officers to a call Tuesday afternoon about a drive-by shooting. Melton was shot and killed as he caught up to the shooters.
The manhunt for the shooters continues in the Kansas City, Kansas area.
"There's a lot of pain and brokenness in our community and nation right now," Kansas City Mayor Mark Holland told reporters as he pleaded for calm in the aftermath of the latest shooting death of a police officer.
Another KCK Police officer, Detective Brad Lancaster was killed in May. Melton was one of the honor guards at Lancaster's funeral.
"As Capt. Melton was arriving, the suspects fell from the vehicle and opened fire, striking Capt. Melton and fatally wounding him," Kansas City, Kan., Police Chief TerryZeigler said, speaking at the same press conference. "I don't have any more details than that and it may change as we work our way through this investigation."
It is believed Melton was shot in the head but further details of the shooting were not given. Another briefing is scheduled for Wednesday morning.
"Right now we just need to be in prayer for (Melton's) family and for our police department," Holland said. "Not only in this department but everywhere in our country. And prayer for our communities. Our communities are broken right now."
Melton was a 17-year veteran of the police force, but also served in Afghanistan from September 2010 to March 2012 as part of a Kansas Army National Guard tank squadron unit.