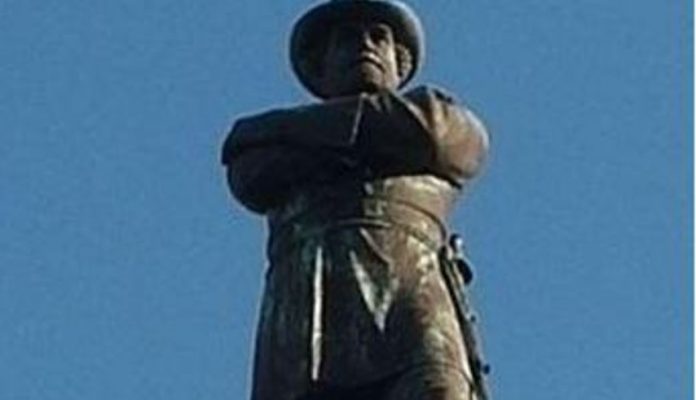 May 20 (UPI) — New Orleans workers removed the fourth and final Confederate statue, of Gen. Robert E. Lee, on Friday amid mainly chants of glee from the crowd.
"Na na na na, hey, hey, hey, goodbye!" some in the crowd cheered as the statue commemorating the commander of the Confederacy during the Civil War was lowered Friday onto a flatbed trailer from Lee Circle.
On Wednesday, the statue of Confederate Gen. P.G.T. Beauregard was removed from City Park. In April, the city removed the Battle of Liberty Place monument, which was erected by a white supremacist group to commemorate a deadly insurrection against New Orleans' racially integrated police department and government in 1874. Last week, workers removed a statue of Confederate icon Jefferson Davis from Mid-City as part of a "march to reconciliation."
Mayor Mitch Landrieu said the historical markers "celebrate a fictional, sanitized Confederacy, ignoring the death, ignoring the enslavement, ignoring the terror that it actually stood for. And after the Civil War, these monuments were part of that terrorism as much as burning a cross on someone's lawn."
The Lee statue was erected in 1884 in honor of the commander of the Army of Northern Virginia.
The statue's column will remain and a water feature will be added, the city said in a news release.
The monuments will be stored and then relocated, city officials said.
"To literally put the Confederacy on a pedestal in our more prominent places — in honor — is an inaccurate recitation of our full past, is an affront to our present and it is a bad prescription for our future," said Landrieu, the city's first white mayor since 1978. The city is 60 percent African American.
In 2015, the New Orleans City Council voted to remove the four Confederate monuments. Court rulings cleared the way for the monuments to be removed.
Supporters of the monuments participated in 24-hour vigils. They said the monuments represent Southern history and have artistic importance.