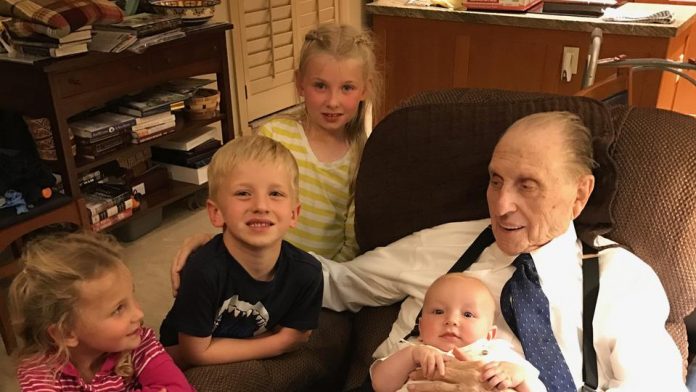 SALT LAKE CITY, Utah, Aug. 19 (Gephardt Daily) — Thomas S. Monson, President of The Church of Jesus Christ of Latter-day Saints, will celebrate his 90th birthday Monday with a family gathering and a slice of lemon cake, his daughter says.
A "quiet family affair" will be held in Salt Lake City to celebrate his birthday, according to his daughter,  Ann M. Dibb. Family members will gather for lemon cake and ice cream, she revealed in a statement released by the LDS Church.
Monson has served as the leader of the church since 2008. In May, an LDS official announced that Monson would decrease his public appearances.
"Because of limitations incident to his age, President Monson is no longer attending meetings at the church offices on a regular basis," said Eric Hawkins, spokesman for The Church of Jesus Christ of Latter-day Saints. "He communicates and confers with his counselors on matters as needed.
"President Monson is grateful that the work of the First Presidency and Quorum of the Twelve Apostles continues without interruption. He appreciates the prayers and support of church members."
Monson had been hospitalized for several days in April after looking frail and feeling unwell following Saturday morning and evening sessions of the 187th Annual General Conference.
Monson has served as a bishop, member of a stake presidency, mission president and ordained an apostle on October 10, 1963, at the age of 36. This service as an apostle of nearly 54 years makes him one of the longest-serving General Authorities.
"His service has always been a part of our life," Dibb said in the prepared statement. "Even when he was called to be an apostle, it didn't seem as though there was much of a change because it seemed like he always served."
Dibb suggested that people who wanted to celebrate her father's birthday could do so by helping people.
"Extend kindness and service to others," she said. "If you feel something would be kind, do it. It's one of the ways my father would find joy is in serving others."
One of Monson's counselors, President Dieter F. Uchtdorf, released a statement thanking the leader for his humor and wisdom.
"We have been blessed by your humor and wit, memorable stories, and inspired counsel and messages," Uchtdorf's statement said. "Your example of goodness and faith have led us through the decades and will be a guiding star for many years to come."