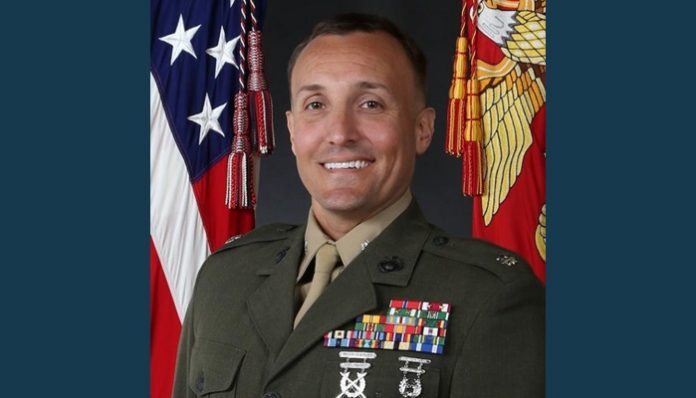 Oct. 6 (UPI) — A Marine lieutenant colonel who was jailed last month after posting a viral video criticizing the U.S. withdrawal from Afghanistan was released from the brig on Tuesday.
Lt. Col. Stuart Scheller was released from confinement "as a result of a mutual agreement" between his legal team and officials, Cpt. Sam Stephenson, a Training and Education Command representative, said in a statement.
No additional details about the agreement would be immediately released, said Stephenson.
Scheller, a 17-year infantry officer, had been ordered to be held in pre-trial confinement at the brig in Camp Lejeune after posting several videos to Facebook and LinkedIn criticizing several top U.S. officials over the military withdrawal from Afghanistan.
He had not been charged with a specific violation of the Uniform Code of Military Justice, but officials had said they would examine whether he had committed offenses including contempt toward officials, willfully disobeying a superior commissioned officer, failure to obey lawful general orders and conduct unbecoming an officer and a gentleman.
In a video posted in August after the suicide bomb attack in Kabul that killed 13 U.S. service members and more than 100 Afghan civilians, Scheller criticized Defense Secretary Lloyd Austin and Joints Chiefs Chairman General Mark Milley for closing Bagram Air Base and failing to anticipate the fall of Afghan National Security Forces to the Taliban.
He also called on senior leaders to take accountability for the failures of the withdrawal.'
"People are upset because their senior leaders let them down and none of them are raising their hands and accepting responsibility and saying we messed this up," Scheller said.
Scheller further expressed his "Growing discontent and contempt for … perceived ineptitude at the foreign policy level" and in a later video accused Marine Gen. Kenneth "Frank" McKenzie, commander of the U.S. Central Command, of dereliction of duty.
After the release of the videos, Scheller was fired from his job as the commander of an infantry training battalion at Camp Lejeune on Aug. 27.
He has submitted a letter to the Secretary of the Navy offering to resign his commission rather than face a court-martial.
A group of 27 Republican lawmakers last week sent a letter to Gen. David Berger, the Marine Corps commandant, calling for Scheller to be released from the brig and stating his detainment appeared to be "simply for messaging, retribution and convenience."