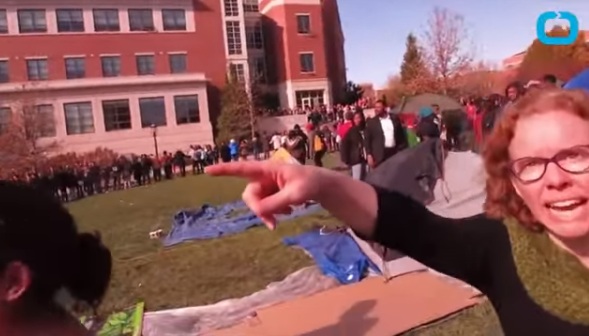 COLUMBIA, Mo., Feb. 26 (UPI) — The University of Missouri has fired Melissa Click, an assistant professor seen on videos trying to intimidate a student journalist and cursing at a police officer.
In a 4-2 vote, the school's Board of Curators on Thursday terminated Click, who has the right to an appeal.
"The board believes that Dr. Click's conduct was not compatible with university policies and did not meet expectations for a university faculty member," board spokeswoman Pam Henrickson said in a statement.
"The board respects Dr. Click's right to express her views and does not base this decision on her support for students engaged in protest or their views," Henrickson said, "However, Dr. Click was not entitled to interfere with the rights of others, to confront members of law enforcement or to encourage potential physical intimidation against a student."
Click spokesperson Courtney Fitzpatrick said, "She is not taking interviews and has no comment at this time."
While the University of Missouri boiled over with protests over charges of racism, Click's behavior quickly came to overshadow the issue as she was filmed trying to intimidate a student journalist.
"Hey, who wants to help me get this reporter out of here?" Click shouts on the video. "I need some muscle over here."
Click was charged with third-degree assault over the incident.
A second video, shot about a month before the "muscle" video, shows Click on a Columbia police body camera video as part of a protest during a homecoming parade where she yells and curses at a police officer who is asking the protesters to move to the sidewalk.
Click told FOX 2 earlier this month, she had "made mistakes."
"But my intention was to, like other faculty and staff, to support a student group that was expressing that they had been excluded from MU, the MU community," she said.