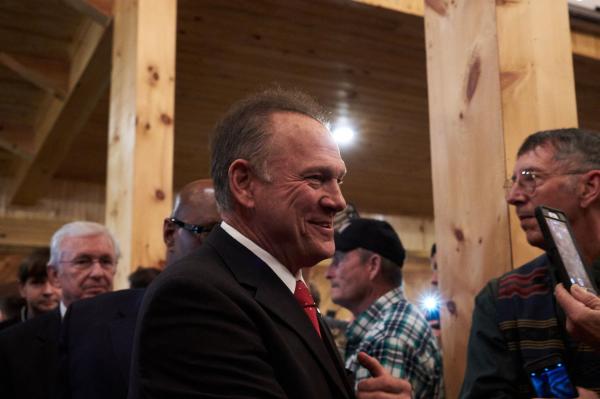 Dec. 12 (UPI) — The people of Alabama head to the polls Tuesday to vote in a tightly contested special election to determine who will fill the Senate seat left vacant by Attorney General Jeff Sessions.
Polls indicate a close race between Republican Roy Moore and Democrat Doug Jones, with a Fox News poll projecting a 10-point lead for Jones, but multiple other polls showing Moore with a lead ranging anywhere between 4 and 9 points.
Alabama hasn't elected a Democrat to the Senate since 1992, but sexual misconduct allegations against Moore have opened an opportunity for Jones and may even prompt voters to turn to write-in candidates, like retired USMC Col. Lee Busby.
President Donald Trump has maintained his vocal support of Moore and recorded an automated call encouraging Republican voters to back him Tuesday, in hopes of keeping the Senate seat.
"Roy Moore is the guy we need to pass our 'Make America Great Again' agenda," Trump said. "Roy is a conservative who will help me steer this country back on track after eight years of the Obama disaster. Get out and vote for Roy Moore."
Former President Barack Obama recorded his own automated calls for Jones, urging Alabama voters to get out and vote — a message perhaps born from last year's presidential election, which saw some Democratic voters in key swing states stay home.
Jones also received out-of-state help from fellow Democrats including Massachusetts Gov. Deval Patrick, New Jersey Sen. Cory Booker as they joined him on the home-stretch of his campaign.
Voter turnout is expected to play a deciding role in the rare December special election and Alabama Secretary of State John Merrill said he expects about 25 percent of registered voters to cast ballots.
"I raised it up after I started seeing the numbers from absentee ballots," Merrill said. "I think it's because more people are becoming more energized about the race here at the end and they want to make sure their vote is counted."
A recent poll showed 50 percent of Alabama residents plan to vote for Moore, a former state Supreme Court judge, while 45 percent said they will vote for Jones.
The race has been plagued by allegations against Moore by eight women who accused him of sexual misconduct when he was in his 30s, and in some cases when they were in their teens. Forty-three percent of Alabama residents said in a survey they believe the accusations of misconduct against Moore.
Moore has denied the accusations.
Wisconsin Rep. Gwen Moore called for Frank J. Larkin, the Senate sergeant at arms, to inform her what special measures would be taken to protect teenage Senate aides if Moore is elected.
"I would like to know what preventative steps are being undertaken to safeguard Senate pages from predatory conduct of U.S. senators and Senate staff," she wrote. "The U.S. Congress has an obligation to keep these students safe especially in light of known potential harm."
Sen. Cory Gardner, R-Colo., the head of the National Republican Senatorial Committee, has said that Moore should be expelled from the U.S. Senate if elected, in response to his alleged sexual misconduct.