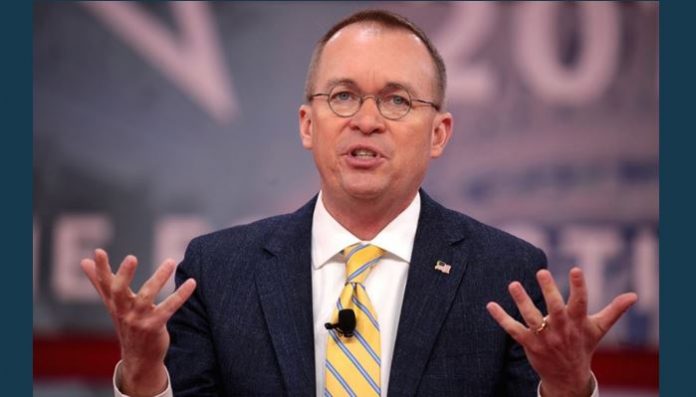 Dec. 15 (UPI) — President Donald Trump has named Mick Mulvaney his acting White House chief of staff, replacing John Kelly who is leaving the position by the end of the year.
Trump tweeted Friday that he was naming Mulvaney, director of the Office of Management and Budget, as his acting Chief of Staff.
"Mulvaney has done an outstanding job while in the Administration," Trump tweeted. "I look forward to working with him in this new capacity as we continue to MAKE AMERICA GREAT AGAIN!"
Trump added that Mulvaney would replace Kelly, a retired four-star Marine general, "who has served our country with distinction," and as a "great patriot," who he personally thanked for his service.
Mulvaney will maintain his OMB position, "but will spend all of his time devoted to his role as the acting Chief Of Staff for the President," according to pool report Friday. OMB Deputy Director Russ Vought will handle day to day operations and run the office.
A senior administration official said there is "no time limit" for Mulvaney to serve in the new post, and he could lose the "acting" part of his title if things go well.
"This is a tremendous honor," Mulvaney tweeted. "I look forward to working with the President and the entire team. It's going to be a great 2019!"
Mulvaney, a former South Carolina congressman, sworn into the OMB position early last year, had served in a dual role since he had also been head of the Consumer Financial Protection Bureau. However, the Senate voted last week to confirm Kathy Kraninger, associated director for general government programs, to take over that position.
Trump announced a week ago that Kelly, who came into the position last year with a reputation for bringing discipline to the West Wing, would leave the post by the end of the year.
Mulvaney is the third White House chief of staff named in under two years.
Kelly, a former secretary of the Department of Homeland Security, was named to replace Reince Priebus as Trump's chief of staff in July 2017. Priebus had served in the chief of staff position since January and previously served as chairman of the Republican National Committee and Republican Party of Wisconsin.