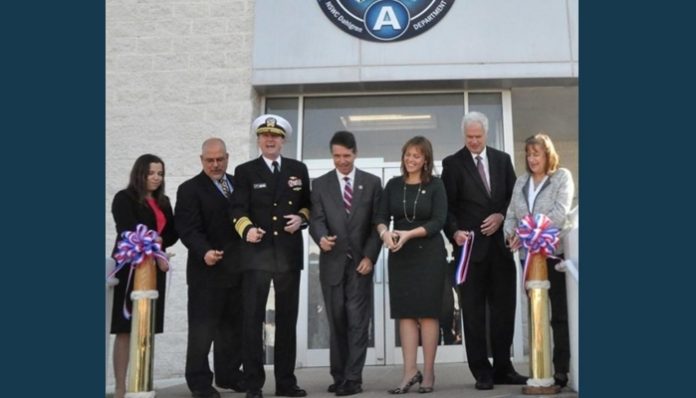 Nov. 7 (UPI) — The Navy has opened a new Missile Support Facility in Dahlgren, Va., that will focus sub-launched ballistic missiles and the Columbia-class nuclear submarine program.
The new facility, which opened last week and was announced by the Navy on Tuesday, will be part of the Naval Surface Warfare Center Dahlgren Division. It features top of the line labs and equipment for over 300 NSWCDD Strategic and Computing Systems Department scientists, engineers and other technical experts on current and pending ballistic missiles.
During remarks at the opening, the Navy's director of strategic systems, Vice Adm. Johnny Wolfe, called the Missile Support Facility vital to the SLBM program, which is responsible for the Trident II submarine launched ballistic missile — one of the legs of the country's "nuclear triad."
"The men and women of NSWC Dahlgren have stood with us side by side for 60 plus years and will continue to stand with us side by side for the next 66 years," Wolfe said, referring to the Columbia-class ballistic missile submarine currently under development.
The Columbia-class is planned to begin construction in 2021 and will mount Trident II SLBMs. It is expected to be the standard U.S. ballistic missile submarine until 2084.
"As we've gone through Polaris, Poseidon, Trident I, Trident II, and whatever comes after Trident II, we are going to continue to rely on this unique critical skill that you have in this program," Wolfe told assembled employees. "We know that we can always count on you to deliver."
The Navy has classified the Columbia-class as a top priority program. NSWCDD is currently in the research and development phase.
The Columbia-class is expected to replace the current fleet of Ohio-class ballistic missile submarines. It will field 16 Trident II D5 nuclear SLBMs, along with torpedos for self-defense. Cruise missile variants are also under consideration to replace the four Ohio-class submarines that have been converted into conventional missile platforms.
Ballistic missile submarines are designed for long-endurance nuclear deterrence patrols operating under near complete silence. They form a difficult to detect and destroy fail-safe weapon during a nuclear conflict. The first of the 12 planned to be built, the Columbia, is expected to be completed by 2031.
The Trident II D5 SLBM is the primary sea-based nuclear deterrent for both the U.S. and U.K. navies. It is carried on U.S. Ohio-class and U.K. Vanguard-class submarines.
Each missile can carry Multiple Independent Reentry Vehicles, allowing a number of warheads from a single missile to shower a target area, though U.S. missiles currently mount only one warhead. They serve as a key deterrent weapon in case land- and air-based nuclear forces are destroyed in an enemy nuclear first strike.