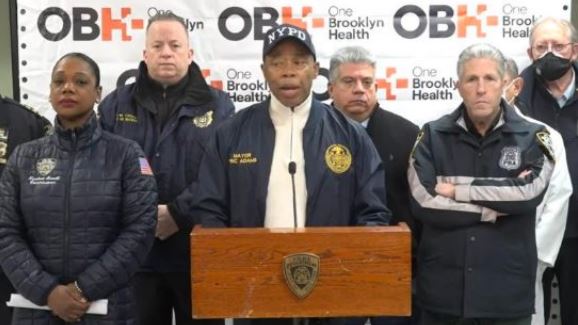 Feb. 5 (UPI) — An off-duty New City Police Department officer is in critical condition after being shot in the head during a robbery attempt as he sought to buy a vehicle from Facebook Marketplace.
The officer arranged to meet someone to purchase a vehicle at an agreed-upon location near 472 Ruby St. at about 7 p.m., Assistant Chief Michael J. Baldassano during a press conference on Saturday. The officer arrived at the meet location accompanied by a relative.
"Almost immediately, the suspect displayed a gun and announced a robbery," Baldassano said. "There was an exchange of gunfire where the off-duty officer was struck."
The suspect fled and the officer was transported to One Brooklyn Health-Brookdale University Hospital Medical Center where he remains in critical condition. The relative was not injured.
Police Commissioner Keechant Sewell said during the news conference that the officer, who has not been identified, is a five-year veteran of the force assigned to patrol duty.
He is 26 years old and is part of the 66th Precinct in Brooklyn's Borough Park neighborhood, The New York Daily News reported.
Along with prayers, officials asked for help from lawmakers to address gun violence in the city.
Mayor Eric Adams, who spoke at the news conference, said there are "too many illegal guns" in the "hands of bad people."
"Far too often I've stood at hospital beds with Pat Lynch on one side, the police commissioner on the other," Adams said, referring to the president of the New York City Police Benevolent Association.
"Leaving the rooms with family members in mourning. Hearing that same sound, 'Tell me it's not true.'"
Lynch, the head of the powerful police union, echoed Adams' statements.
"For some time now we've been listening to our legislators talk about crime as if it's a fantasy, It's not real," Lynch said.
"You want to see reality, look at the devastation that those rounds caused to that young man's body. That's reality. It's causing devastation. This has to end. We can't keep going to hospital emergency rooms and asking for prayers."