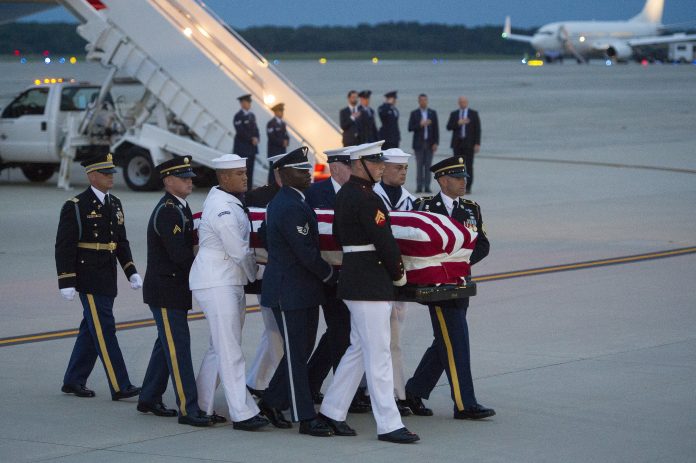 Sept. 1 (UPI) — Friends, family and former political foes of Sen. John McCain, including former Presidents Barack Obama and George W. Bush, reflected on the Arizona Republican's life Saturday at Washington National Cathedral.
McCain died last Saturday at the age of 81, preceding a week of ceremonies to honor the former Vietnam War prisoner of war, presidential nominee and 32-year veteran of the U.S. Senate.
During the first eulogy at Saturday's memorial service in Washington, D.C., daughter Meghan McCain fought back tears telling mourners her father transcended his many titles and roles — including sailor, aviator, husband, warrior, prisoner of war, hero, congressman, senator and presidential nominee.
"These are all the titles and roles of a life that has been well lived but they are not the greatest of his titles, nor the most important of his roles. He was a great man," she said.
"We gather here to mourn the passing of American greatness. The real thing, not cheap rhetoric from men who will never come near the sacrifice he gave so willingly. Nor the opportunistic appropriation of those who live lives of comfort and privilege while he suffered and served."
Meghan McCain drew sustained applause as she said, "the America of John McCain has no need to be made great again, because America was always great."
She said her father was not defined by his time in the Navy, the Senate or the Republican Party.
"John McCain was defined by love," she said.
In his eulogy, Obama emphasized McCain's tendancy to defy others' expectations, saying "he had no interest in conforming to some prepackaged version of what a senator should be."
That trickled over into into his political career, Obama said.
"John believed in honest argument and hearing other views," he said. "He understood that if we get in the habit of bending the truth to suit political expediency or party orthodoxy, our democracy will not work. That's why he was willing to buck his own party at times."
Bush said McCain's absence is tangible, "like the silence after a mighty roar."
"Some lives are so vivid, it is difficult to imagine them ended. Some voices are so vibrant and distinctive, it is hard to think of them stilled. A man who seldom rested is laid to rest," Bush said.
The former president said wherever McCain went, "people immediately knew there was a leader in their midst."
"The thing about John's life was the amazing sweep of it," Bush said. "From a tiny prison cell in Vietnam to the floor of the United States Senate. From troublemaking plebe to presidential candidate. … In one epic life was written the courage and greatness of our country."
Throughout his life, McCain charted a course that's worth emulating, Obama said, adding that it's a path not reserved for few, but "open to all of us."
"That's perhaps how we honor him best, by recognizing that there are some things bigger than party or ambition or money or fame or power," Obama said. "That there are some things that are worth risking everything for: principles that are eternal, truths that are abiding. At his best, John showed us what that means. For that, we are all deeply in his debt."
McCain will be buried Sunday at the U.S. Naval Academy Cemetery following a ceremony at the U.S. Naval Academy Chapel in Annapolis, Md.